Mitt Romney Insists To CNN: 'I Had No Role Whatsoever In Management Of Bain Capital After February 1999'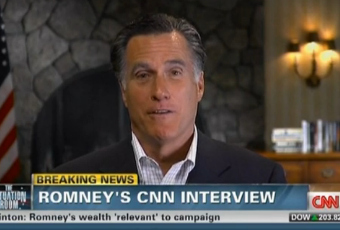 In a Friday exclusive interview with CNN's Jim Acosta, presumptive Republican presidential nominee Mitt Romney addressed the controversy over the end-date of his tenure at Bain, maintaining that he "had no role whatsoever in managing Bain Capital after February of 1999." The former governor also had harsh words for the way President Barack Obama's re-election campaign, labeling it as "terribly destructive to the political process" and guilty of putting out information that is "false, deceptive, and dishonest."
"SEC filings stating you were CEO at Bain Capital past 1999, when you say you left Bain to run the Olympics," Acosta told the Republican nominee. "Why was your name still on these documents, and why didn't you clear this up sooner?"
"I had no role whatsoever in the management of Bain Capital after February of 1999," Romney maintained. "Not that that would have been a problem to have said I was with the firm beyond that, but I simply wasn't. I left in february of 1999 to run the Olympics. I went and did that full-time, relinquished all management, authority and role."
"How do you explain that discrepancy that your name is on the filings and yet you said publicly you left the firm in 1999?" Acosta challenged. "Weren't you concerned at some point the filings might become public?"
"I left any role at Bain Capital in February of '99, and that's known and said by the people at the firm, said by the offering documents the firm made subsequently about people investing in the firm," Romney insisted. "I think anybody that knows I was out full-time running the Olympics would understand that's where I was."
"There's a difference being being a shareholder and running the entity," he continued. "I had no role whatsoever in managing Bain Capital after February of 1999."
– RELATED: FactCheck Alert: Boston Globe Reports Mitt Romney Was At Bain Until 2002
Romney went on to say that this latest controversy over his Bain tenure is "an effort on the part of the president's campaign to divert attention from the fact that the president has been a failure."
Acosta then challenged the former governor on the fact that in 2002, Romney testified in front of the Massachusetts Ballot Law Commission, that he returned to Massachusetts to attend a meeting with Staples, a company Romney helped create during his tenure with Bain Capital. "Isn't that active participation at a Bain-related company?" Acosta asked.
"Actually, Staples at that point was an investment by Bain Capital," Romney pushed back. "Bain Capital had already sold its shares, distributed its shares in Staples. So my involvement with Staples was entirely on a personal basis. I continued to be involved with the firm, but it was as a fiduciary for Staples, not representative of Bain Capital, because Bain Capital had no further interest in Staples at that point."
Acosta then played for Romney a clip of President Obama's Deputy Campaign Manager Stephanie Cutter implying that Romney had possibly committed a felony in his "misrepresentation" of his position at Bain.
– RELATED: Game Remains The Same: FactCheck Slams Boston Globe Flawed Story On Romney's Bain Tenure
Romney responded harshly: "Is that really what's expected from the campaign of the sitting President of the United States? […] Is this the level the Obama campaign is willing to stoop to? Is this up to the standards expected of the presidency of the United States? I don't think the american people think so; I certainly don't think so. I think it's a very disappointing revelation on their part. […] It is disgusting, demeaning, and something I think the president should take responsibility for and stop."
Check out the segment below, via CNN:
>> Follow Andrew Kirell (@AndrewKirell) on Twitter
Have a tip we should know? tips@mediaite.com