MSNBCers Suggest Christie Subliminally Intimidated Town Hall Guests into Avoiding Bridgegate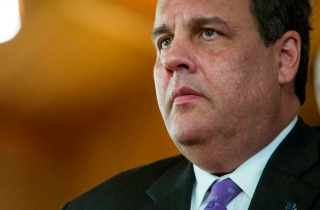 New Jersey Gov. Chris Christie disappointed political reporters everywhere when, while holding a town hall event in Monmouth County on Thursday, he was not asked directly about the scandal involving the closure of two lanes of the George Washington Bridge last September.
Vexed as to why the residents of Monmouth County were not as interested in that controversy as they are, the hosts and anchors of MSNBC have embraced a theory: those Monmouth County residents were intimidated by Christie into not bringing up the Bridge scandal. Instead, Christie used subliminal messaging to force those residents to hector him over Hurricane Sandy relief aid.
The controversy centers around Christie's "rule number four." It was this rule, the MSNBC personalities said, which cowed the assembled town hall participants into not asking about a scandal which has dominated MSNBC's prime time since it broke nearly seven weeks ago.
"I want to remind all of you of something. with the possible exception of some of the media who is here to cover this today, all of us are from New Jersey," Christie warned. "And so you know what that means. What that means is, if you give it, you are getting it right back."
"Up until now, questions have stayed on task and off scandal," MSNBC anchor Richard Lui observed. "But, of course, that could have something to do with the warning Christie issued at the outset of this. He called it his rule number four."
"He answered unscripted questions about Hurricane Sandy relief funds and made it clear anyone asking a question should stay on task and off the scandal," The Cycle guest host Angela Rye opined, "An early warning he referred to as rule number four."
After featuring anti-Christie protesters holding up signs insulting the Garden State governor, MSNBC host Alex Wagner also touched on Christie's ability to hypnotize his constituents into not caring about MSNBC's preferred topic of discussion.
"Can't stop, won't stop," she began. "That was New Jersey Governor Chris Christie's message today, trying to brush Bridgegate aside and reclaim his image as a tireless crusader for victims of Superstorm Sandy."
"But when it came time for the rules, it was clear that the scandal was to remain outside the forum," she added. "At the very beginning of the town hall, Governor Christie issued a warning to anyone who might try and bring up the certain controversy that has dominated the news cycle for the last go months, throwing his governorship into complete disarray and derailed his prospects for 2016."
"Basically, the message today was, 'Bring that stuff up and you'll pay for it,'" Wagner imagined.
Both investigative reporter Michael Isikoff and MSNBC host Steve Kornacki were enlisted on Thursday to provide analysis on the breaking developments relating to the investigation into the lane closures. Both Isakoff and Kornacki conceded that, in spite of the recent release of documents relating to that scandal, there was little in the way of news to report.
Honestly, if Christie has the ability to perform Jedi mind tricks on the residents of New Jersey, what hope does Hillary Clinton have if he decides to pull the trigger on a 2016 presidential bid? MSNBC might as well just give up while they still have the opportunity to make a good impression on their future overlord.
[Photo via AP]
— —
> >Follow Noah Rothman (@NoahCRothman) on Twitter
This is an opinion piece. The views expressed in this article are those of just the author.