Venezuelan Journalist Rightly Wonders Why American Media Ignores Unfolding Crisis
Kirell: Venezuelan Journalist Rightly Wonders Why American Media Ignores Unfolding Crisis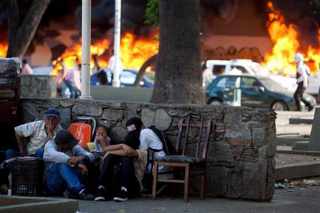 As we reported earlier, the unfolding situation in Venezuela is not pretty. The protests against Chávez successor Nicolás Maduro's regime have reportedly turned violent, similar to the chaos seen in Ukraine.
At least six protesters have been shot, homes have reportedly been raided, and government efforts to suppress the gatherings are underway. Wednesday night was a particularly violent night.

Venezuelan journalist Francisco Toro noticed that as the pandemonium unfurls before his country's eyes, it has barely registered with the international media. In a post for Caracas Chronicles, Toro took major outlets to task for ignoring what has become a slow-motion crumbling of the Latin American country.
What the media have represented as "street clashes," he wrote, are actually "state-hatched offensive to suppress and terrorize its opponents." He explained:
Throughout last night, panicked people told their stories of state-sponsored paramilitaries onmotorcycles roaming middle class neighborhoods, shooting at people and  storming into apartment buildings, shooting at anyone who seemed like he might be protesting. People continue to be arrested merely for protesting, and a long established local Human Rights NGO makes an urgent plea for an investigation into widespread reports of torture of detainees. There are now dozens of serious human right abuses: National Guardsmen shooting tear gas canisters directly into residential buildings. We have videos of soldiers shooting civilians on the street. And that's just what came out in real time, over Twitter and YouTube, before any real investigation is carried out. Online media is next, a city of 645,000 inhabitants has been taken off the internet amid mounting repression, and this blog itself has been the object of a Facebook "block" campaign.
Seems pretty awful, right?
While conceding that there is a much more "photogenic" upheaval taking place in Ukraine, Toro lamented that major news outlets have either outright ignored or relegated Venezuela to the b-list of news items.
Scanning each of those media outlets' websites on Thursday morning, Toro observed:
The New York Times "World" section has "nothing."
The Guardian world page "has some limp why-are-you-protesting? piece that made some sense before last night's tropical pogrom, but none after it. So… basically nothing."
The BBC led its Latin America section with a story on the old news of the detained Venezuelan opposition leader, "as though [the violence] last night had been just business as usual."
CNN, he noted, was also "chasing the thing that was the story in the old Venezuela," i.e., the detained leader and not the violent government crackdown on protesters.
"Al Jazeera English never got the memo," he added, with a screenshot of a website full of Ukraine headlines.
And showing Fox News' webpage, Toro wrote: "Even places that love to hate the Venezuelan government are asleep at the wheel."
As of 4:30 p.m. ET, Fox still has nothing about Venezuela on its front page. Al Jazeera has one story that requires some scrolling to notice. CNN's front page has a small side-bar link, and CNN World has a link to a gallery of protest images. Guardian has several links, mostly towards the bottom of the page. And the Times still has nothing but a small link to a video.
"Venezuela's domestic media blackout is joined by a parallel international blackout, one born not of censorship but of disinterest and inertia," Toro concluded. "It's hard to express the sense of helplessness you get looking through these pages and finding nothing. Venezuela burns; nobody cares."
UPDATE: Several tipsters have pointed out that ABC-owned network Fusion has had an on-the-scene reporter in Mariana Atencio, putting them leagues above the other cable outlets. Check out one of her reports below:
[Featured image via AP Photo/Alejandro Cegarra]
— —
>> Follow Andrew Kirell (@AndrewKirell) on Twitter
Have a tip we should know? tips@mediaite.com