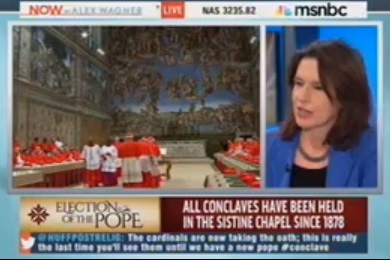 But she meant it in the best way possible. On Tuesday morning, all three cable news networks devoted hours of airtime to complete coverage of Cardinals signing in for the latest conclave to elect a new pope, which made for television with all the electricity of a watch battery. On MSNBC, The Nation's Katrina vanden Heuvel broke up the monotony somewhat by telling fellow panelists that she was reminded of Soviet Russia, specifically "of the Communist Party. There is something about the need to have Kremlinology to understand who might be the next pope."
Vanden Heuvel went on to explain that the next pope will need to be a reformer, along the lines of a Mikhail Gorbachev, to bring transparency to the Vatican. She also confessed to being a lapsed Catholic who agrees with E.J. Dionne that the next pope should be a nun:
Although I only half-watched the coverage of what appeared to be the waiting room for the world's slowest, yet busiest, doctor's office, I am fairly confident that this was the most interesting thing said during the cumulative hours of cable news this morning. On CNN, without a trace of irony, they were talking about the betting line on who the next pope will be. On Fox News, Shep Smith was also talking about transparency, which is becoming one of the most overrated concepts in the media. It seems as though it's more important to let people see the horrible things you're doing than to do anything about it.
To be fair, I'm a much more lapsed Catholic than Katrina vanden Heuvel, so my level of investment in the new pope is lower than most, and while I begrudge no one their faith, the Vatican, as an institution, seems fatally flawed. Covering up and enabling child rape is something you shouldn't even get one shot at, let alone several thousand. But even those who are considerably more forgiving than I am would be hard-pressed to find much of value in this saturation coverage of the papal conclave kickoff.
Have a tip we should know? tips@mediaite.com