MSNBC's Touré Savages 'Old, White' McCain For Opposing Susan Rice, 'Bitter' Over His '08 Loss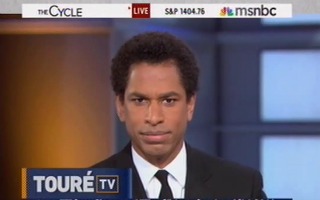 MSNBC host of The Cycle, Touré, attacked Sen. John McCain (R-AZ) on Monday for his role in opposing United Nations ambassador Susan Rice's nomination to replace Sec. Hillary Clinton as the next Secretary of State. Touré claimed that McCain is attempting to secure some of his fleeting influence in Washington as the outgoing ranking member of the Senate Armed Services Committee and has done his party's image harm as a white politician opposing a black, female candidate.

"John McCain is a drowning man, grabbing desperately onto anything he thinks can help save him," Touré said. "He's still bitter he lost in '08, and now his time as a powerful Senator is waning."
Touré accused McCain of "using" the scandal surrounding an American ambassador's death in Benghazi in September as a "life raft" to attack President Barack Obama and "remain relevant." He said that McCain has tarnished his image by alleging a "conspiracy" about a cover-up by the White House and Rice to absolve the Obama administration of any fault in their role in attributing the attack in Benghazi to a spontaneous mob.
Touré characterized McCain and his Republican colleagues' opposition to Rice's nomination as the next Secretary of State a "witch hunt."
The MSNBC host also characterized McCain's opposition to Rice in racial and gender-specific terms, saying that his role as a white Senator opposing a black, female administration official has negatively impacted how his party is viewed among several key demographics.
"He also gave us the horrible optics of he and Lindsey Graham as old, white, establishment folks wrongly and repeatedly attacking a much younger black woman moments after an election in which blacks and women went strongly blue," Touré continued. "Looks like the GOP is already laying the foundation for losing in 2016."
Touré concluded by asking his audience to determine how much of McCain's opposition to Rice's appointment to State as being about "the myth of black and female inferiority" and how much is about McCain's own fear of losing his influence in Washington.
Watch the clip below via MSNBC:
> >Follow Noah Rothman (@Noah_C_Rothman) on Twitter
Have a tip we should know? tips@mediaite.com