Napolitano On Whether Children Should Spend Life In Prison: There's 'Opportunity For Rehabilitation'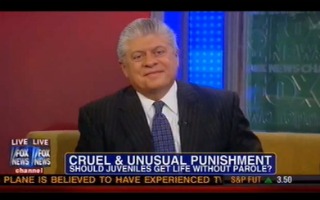 Judge Andrew Napolitano stopped by Fox & Friends Tuesday morning, where he gave his take on what should happen in cases where a minor is convicted of a crime like murder. Should children and teens spend life in prison or be released after a certain amount of time? Is rehabilitation possible for those who commit heinous crimes at a young age?
Napolitano explained the specific case that prompted the discussion. "These are two cases," he said, "in which children, 14 years old, committed brutal, horrific murders — we don't need to go into the details — and they were sentenced to life in prison without possibility of parole. Question is, is there something wrong with the statute? Not with the judge who sentenced them, because the judge had no choice."
"Once the jury found these kids guilty," he explained, "they have to be sentenced under Arkansas and Alabama law to life in prison. The Supreme Court will decide should the statute take into account that a 14-year-old is probably a very different human being by — than what he will be when he's 30."
RELATED: Judge Napolitano Slams UN Debate On Internet Regulation: Beauty Of Net Is That It's 'Utterly Unregulated'
"I think it is better for judges to have discretion," he opined, "not because I am a former judge, but because there are so many variables that go into the make-up of a human being. There's so many aggravating and mitigating factors to be taken into account. There is an opportunity for rehabilitation of a 14-year-old by the time he's 25 or 30 or 40, which the statute prevents judges from taking into account."
Host Gretchen Carlson wondered whether the young teens go to a "real," adult prison or first to a juvenile prison. Napolitano wasn't sure.
Napolitano noted that "there's an urge on the part of the public to want these people to be tried as adults." But, he added, "when they become 35 years old and they're a different person, should they spend another 30 years in jail?"
"But it's still murder," replied Steve Doocy.
Have a look at their discussion, via Fox News:
Have a tip we should know? tips@mediaite.com