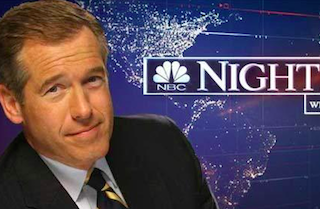 With Brian Williams on a six-month unpaid suspension, NBC News may need to do more than just change the logo and voiceover on its Nightly News program. According to an NBC insider, 30 Rockefeller Plaza is currently covered in an awkwardly large number of posters featuring Williams' face.
In the past few weeks, the heart of the NBC News operation on the third floor of 30 Rock has undergone a major redesign of sorts. The main walls, which had been adorned with historic photos of Tom Brokaw, Barbara Walters and other past NBC luminaries, were recently changed to celebrate a different NBC role model: Brian WIlliams.
To commemorate the 10th anniversary of Williams ascent to the anchor chair at Nightly News the network swapped out all those iconic images to celebrate their current — and soon to be former? — star. There are also huge pictures of Williams in the lobby of 30 Rock, for all staff members and visitors to see as they walk into the building.
RELATED: How Lester Holt Reported the Brian Williams Story on NBC Nightly News Tonight
Wednesday night's broadcast of the Nightly News was the first to present a new logo and intro that removed all mention of Williams' name and instead told viewers, "Reporting tonight: Lester Holt." While NBC has implied that Williams will return to the network after six months away, that possibility is looking more and more slim by the day. Do they really want his picture staring down at everyone who walks those halls in the meantime?
We reached out to NBC for comment and have not yet heard back.
With Williams serving out his punishment, the presence of the photos that adorn NBC News headquarters are about as incongruous as the series of ads, voiced by Michael Douglas, that NBC released just two months ago to honor the anchor's anniversary. Especially this one, titled "Trust."
Watch video below, via NBC News:
[Photo via screengrab]
— —
>> Follow Matt Wilstein (@TheMattWilstein) on Twitter
Have a tip we should know? tips@mediaite.com