News Media, Please Don't Forget Puerto Rico is Still in the Midst of a Humanitarian Disaster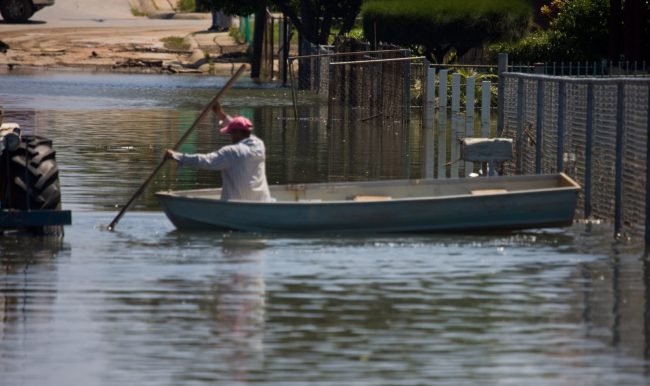 The massacre that transpired overnight in Las Vegas is the largest mass-shooting in U.S. history, and the news media has done a good job covering this awful story from every angle. But the situation in hurricane-ravaged Puerto Rico is no less dire today than it was yesterday and still desperately needs media attention to help save lives.
As is often the case when there is such a shocking and appalling story as the Las Vegas massacre — the magnitude of which we have a hard time grasping — it becomes the sole focus of most news coverage, moving everything off the proverbial news slate. And there are important details in the shooting that still have to emerge, as well as the time-honored debate over the policy — and politics — surrounding the specifics of the guns used and how the assailant got them.
Despite the horrific mass casualties suffered during this shooting, the assailant is now dead. All that's truly left for the media to do is analyze what happened.  The situation in a hurricane-ravaged Puerto Rico story is still very much a fluid one, and absolutely requires dedicated reporting so that people in the U.S. mainland don't forget the real humanitarian crisis at play.
There is one major similarity between the two stories, and that is how quickly they have spawned political debates on cable news. And that's not a surprise but rather the predictable symptom that comes with packaging political entertainment discussion and debate as "news" programming — as is the case with most cable news shows.
With Puerto Rico we've seen President Donald Trump defend himself from criticism with the old chestnut of blaming "Fake News" and "politically motivated ingrates" for discrediting his relief efforts. But regardless of Trump's attempts to paint his administration's response to the disaster as an "incredible" success, that doesn't change the fact that the vast majority of Puerto Ricans are without power, cell phone service and drinking water.
This is why the reporters on the ground in Puerto Rico have never played a more vital role in sharing the unfolding story of what's happening in the U.S. Territory. But the reports will only be seen if programming executives ensconced in their windowed corner offices choose to give them air time.
Let's hope that networks are able to juggle a robust debate on gun policy and mental health awareness with continued coverage of the humanitarian crisis occurring in a United States territory. As tragic as it is, the coverage of the Las Vegas shooting must not come at the expense of the current and very dire situation in Puerto Rico.
Have a tip we should know? [email protected]