Newt Zing-rich: Unlike Fox News Analysts, 'I Have To Know What I'm Talking About'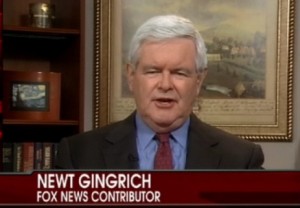 Current Republican presidential primary frontrunner Newt Gingrich took an odd swipe at his former employer at a town hall meeting in South Carolina on Tuesday. In answering a question about HIV/AIDS policy, Gingrich zinged Fox News, saying "One of the real changes that comes when you start running for President — as opposed to being an analyst on Fox — is I have to actually know what I'm talking about."
After basking in several seconds of laughter, Gingrich added, "It's a severe limitation."
It's an odd barb for several reasons, not the least of which is that he was answering a question that he did not know the answer to. The macro message, then, is that he still doesn't know what he's talking about, but now, it matters.
While Fox News did terminate Gingrich's contract in May (along with fellow candidate Rick Santorum), they did so in anticipation of Gingrich's presidential run, and Fox News chief Roger Ailes hasn't exactly bent over backwards for Gingrich rival Mitt Romney.. Ailes reportedly shot down former Minnesota Governor Tim Pawlenty's pitch for a Fox News job by telling him, "I'm not sure I want to sign you as a paid spokesman for Romney."
Ironically, that same night, Fox News' Bret Baier was doing some Herculean heavy lifting for Gingrich with a devastating interview of Mitt Romney. You would think Newt would show a little bit of gratitude, even if he does have a point about the network's roster of regulars.
Finally, isn't it possible that when his presidential bid ends in a few weeks, he might want to go back to work for Fox? We know now that he was doing pretty well as a historian before, but that didn't stop him then.
Here's Gingrich's Fox News zinger, from CNN:
(h/t Raw Story)
Have a tip we should know? tips@mediaite.com