Obama in 2005: If Republicans Kill Filibuster, 'Gridlock Will Only Get Worse'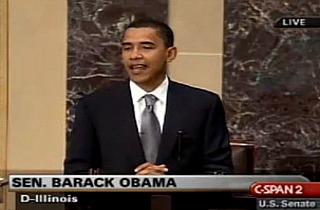 In 2005, when Democrats were scrambling to halt Republicans in Congress from amending the rules of the filibuster to prevent the minority party from blocking President George W. Bush's judicial nominees, a number of Democratic officeholders cheering the passage of the "nuclear option" once railed against it. President Barack Obama, then a first year senator, told his colleagues on the floor that partisanship in Washington would only get worse if the GOP resorted to the "nuclear option."

"The threat to change Senate rules is a raw abuse of power and will destroy the very checks and balances our founding fathers put in place to prevent absolute power by any one branch of government," said Sen. Harry Reid in 2005.
RELATED: Harry Reid Railed Against Nuclear Option in 2005 He Embraces in 2013
He was joined by President Obama. "I sense that talk of the nuclear option is more about power than about fairness," Obama said in an April, 2005 speech in the Senate. "I believe some of my colleagues propose this rules change because they can get away with it rather than because they know it's good for our democracy."
In a clip of that speech, Obama warned that partisan gridlock would only be exacerbated by a rules change passed by the majority Republicans without Democratic consent.
"The American people want less partisanship in this town, but everyone in this chamber knows that if the majority chooses to end the filibuster – if they choose to change the rules and put an end to democratic debate – then the fighting and the bitterness and the gridlock will only get worse," Obama said.
Watch the clip below via C-SPAN 2:
[Photo via screen grab ]
— —
> >Follow Noah Rothman (@NoahCRothman) on Twitter
Have a tip we should know? tips@mediaite.com