Obama On Friends Lamenting His Change 'I Used To Be So Excited, I Still Have A Poster'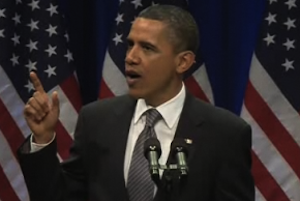 President Obama spoke last night at a campaign fundraiser in San Francisco and was fired up as he delivered many crowd-pleasing lines. Obama motivated his supporters by keeping them entertained with humor throughout and declared "it is going to take more than one term for us to finish everything that we need to do."
Obama opened the speech joking about his earlier town hall meeting with Facebook:
"I was happy to find out that my Facebook page was doing pretty well. I've got 19 million friends. Which only puts me half a million friends behind Sponge Bob Squarepants."
He also suggested his re-election campaign needed to be headquartered outside of Washington D.C. because "I don't want our campaign only hearing from pundits and power brokers and the cable chatter." He admitted he knows the response many of his strongest supporters sometimes have, suggesting "your friends come and you say 'oh Obama's changed. I used to be so excited. I still have a poster.'" He then joked "everybody's a political consultant," before warning that "everyone likes change in the abstract, but change in the concrete is hard. It's tough."
Obama also described the vision for America that his campaign will be fighting for:
"A vision of a big, generous, compassionate America. A vision where we are living within our means but we're still investing in our future. . . . A vision where we live up to the idea that no matter who you are, no matter where you can came from, no matter what you look like, no matter whether your ancestors landed here on Ellis Island or came here on slave ships or came across the Rio Grande, we are all connected. We will rise and fall together. That's the vision of America that I've got, that's the idea at the heart of America."
With so much attention as of late on the potential Republican candidates for President, it's easy to forget just how powerful Obama can be in front of a live crowd. Yet with this speech it certainly seems like the fire is back, and it's officially now "game on" for the campaign season.
Watch the clip from San Francisco ABC affiliate KGO-TV:

Have a tip we should know? tips@mediaite.com