O'Reilly Tears Apart 'Racial Charlatans' Pushing 'Propaganda' That America Is 'An Unjust Country'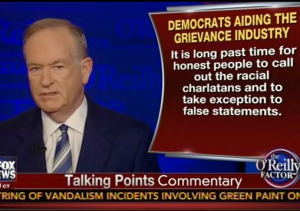 Bill O'Reilly continued his commentary on race tonight, firing back against "racial charlatans" like Al Sharpton and Michael Eric Dyson, both of whom have been particularly critical of O'Reilly's commentary in the last week. O'Reilly also slammed Nancy Pelosi for organizing what he deemed a "circus" of a congressional hearing that did nothing more except giving these same "charlatans" a bigger platform.
O'Reilly rolled his eyes at Pelosi's hearings on race and justice, and said for hearings on diversity, there wasn't much ideological diversity, in that the people who testified were "very far left people who essentially believe America's an unjust country." He declared this was a way of "stick[ing] it to the USA."
O'Reilly found a lot of what individuals like that have had to say gives the world a false impression of the United States–that it is somehow wildly discriminatory and racially unjust. O'Reilly said he's "fed up with this kind of misleading rhetoric," since he believes America to be a "noble nation" with "the most humane people on earth."
He singled out Sherri Shepherd who told Don Lemon on The View that she didn't like how he appeared to make O'Reilly's comments on race legitimate, since, as Shepherd put it, O'Reilly didn't grow up as a young black boy and doesn't understand that experience. O'Reilly fired back.
"If she's honest then she would have to keep quiet during 75 percent of the topics on The View, because she's not a white woman and can't possibly know that experience. How foolish is this?!"
O'Reilly then showed the video of Dyson attacking him for being surprised that black people weren't acting like monkeys. O'Reilly's only response was to sigh and point out that Dyson is a professor at Georgetown University.
Watch the video below, via Fox News:
—–
Follow Josh Feldman on Twitter: @feldmaniac
Have a tip we should know? tips@mediaite.com
Josh Feldman - Senior Editor