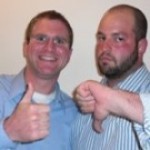 Who: Lorne Michaels and Seth Meyers, interviewed by Ken Auletta
What: Newhouse and the New Yorker's "Live from New York"
Where: W Hotel – Union Square
When: March 2, 2010
Thumbs: Up
For many Saturday Night Live writers, the gig is their first real job. And that makes Lorne Michaels their first real boss. Contrary to what you may have heard, Michaels actually sounds like a supportive and understanding boss, setting aside the pressures of producing a weekly comedy show in favor of focusing on how to help his young talent get better at what they do.
Michaels said that to make the show great, it takes the right mix of many ingredients: talent, on- and off-camera; a fresh approach and new insights; patience with young writers to allow them to reach their potential (he says it takes two to three seasons); and that there are no bad ideas in comedy.
It's the last point that head writer Seth Meyers really agrees with. Meyers has to navigate through roughly 50 different sketches each week to determine which will make the final cut. His selection process, he said, is eased by rehearsals that, based on the laughter or lack thereof, make the decisions easier on him. At a certain point, he added, there's just no more room to fight for the nobility of the piece.
Both Meyers and Michaels were entirely upfront about the process they go through to put the show on the air. Michaels says that his show requires a certain precision and camera timing to put together that doesn't allow for improvising, despite the comedians' proficiencies and wishes. However, when Michaels was asked about the way NBC handled the Leno-Conan handover, he quickly silenced himself. It showed how disciplined Michaels is, and prefers his show to be.
The best performers can do the most with the opportunities they are given. Michaels points to Dana Carvey who he says did a better George H.W. Bush than Bush himself. Michaels frequently mentioned past cast members like Carvey as examples, showing that even after all these years none of them have ever truly left him. He says that's the great thing about the show – each separate cast means something to viewers.
Most often, people will claim the cast that appeared on the program when they were in high school as the "hey day" of "SNL." Michaels believes that those formative teenage years are when people begin to take in the messages of the show and it stays with them for the rest of their lives.
What They Said
"We deal in the world of perception – it's not real – and we deal with what's on the surface."
– Lorne Michaels says that the first thing his staff has to do is find what's funny about certain people
"Lorne goes about getting the best writing out of somebody by pointing out that the current writing could (long pause)… be better."
– Seth Meyers indicates that he's been on the receiving end of his share of writing critiques
"If you feel the audience is ahead of you, you're losing."
– Lorne Michaels recognizes his important it is in comedy to out think your viewers
"It survives because fresh voices come in on both the performing and writing sides and have free reign to do things."
– Seth Meyers on why the show has lasted so long on the air, with so many new casts of characters
"If I wasn't more engaged, I would have left. If I hadn't figured it out, I would have left."
– Lorne Michaels explains why he's still at it, 35 years later
What We Thought
Ken Auletta did a great job asking questions and then staying out of the way. When you have a star like Michaels at the helm, it's best to let him control the conversation. Even Meyers realized it, looking on in awe for much of the evening.
We liked Michaels' comments about how it's the cast's job to figure out how to use the weekly hosts in sketches. With such diverse hosts, this task can be particularly onerous at times. We can't imagine how difficult it must be to write for Zach Galifianakis this week.
PANEL RULES!
Some audience behavior seems to repeat itself panel after panel. We'll be updating a running list of "PANEL RULES!" that will help ensure that you are not the dweeb of the Panel Nerds.
Panel Nerds don't like…Overreachers
Early on in the panel, Michaels refused to select one cast member or full cast as his favorite. So what makes you think that he'd be willing to indulge the reverse? Asking Michaels to identify which actors failed in their stints at "SNL" is disrespectful and gossip-mongering. If you want to know who didn't work out, check the archives. There's a record of who has lasted and who has teetered out. This isn't the right forum to research that question.
Have a tip we should know? tips@mediaite.com