Pensive Ed Schultz Wants to Know if America Can Still 'Consume Both Sides of a Story'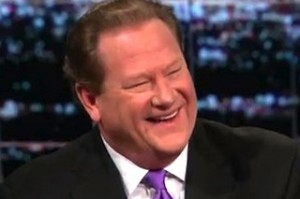 Has MSNBC's Ed Schultz seen the light? Did he attend Catholic confession? Or is he on something?
Schultz, perhaps delighted about the beginning of autumn, struck an unusually inclusive tone Tuesday night. "Have we come to a point in America," he wrote on Twitter, "where we are unable to consume both sides of a story, a conflict, a different view?"
The surprisingly unity-themed remark comes just five days after Schultz accused, without context, Sen. Rand Paul (R-KY) of wanting to "isolate workers to the bottom of the pay scale."
Schultz's new sensibility also comes less than a month after apparently challenging CNN's Brian Stelter to a fight.
Then there's those on-air polls Schultz regularly features on his show, always providing "both sides of a story." Like the poll that asked, "Will conservatives ever have the character to truly condemn racism in America?" (For that poll, 92 percent of his intellectually diverse audience said no.)
Remember when Schultz, who almost never has conservative or Republican guests on his show, called conservative radio host Laura Ingraham a "talk slut"?
Those divisive days, however, may be behind him, as evidenced by this latest tweet.
We reached out to a Schultz spokesperson to see if the MSNBC host has indeed turned over a new leaf. Unfortunately, the email bounced back.
Have we come to a point in America where we are unable to consume both sides of a story, a conflict , a different view ?

— Ed Schultz (@WeGotEd) September 24, 2014
[Photo via HBO/screen grab]
— —
>> Follow Eddie Scarry (@eScarry) on Twitter
Have a tip we should know? tips@mediaite.com