Obama's Trump Joke Comes to Life: bin Laden News Preempts Celebrity Apprentice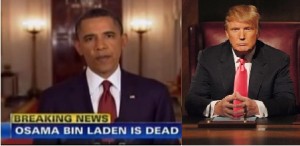 One of the highlights of Saturday night's White House Correspondents Dinner was President Obama's thorough decimation of a stone-faced Donald Trump, particularly a bit where the President contrasted the types of decisions the two face. Amazingly, that pivotal bit came to life like Frosty the Snowman the very next night, as news of the Obama-ordered strike on Osama bin Laden's compound preempted an airing of Trump's Celebrity Apprentice, denying East Coast residents the weighty results of Trump's latest boardroom dilemma.

At Saturday's dinner, the President poked fun at himself quite a bit, but one of the highlights was this evisceration of Trump, as well as anyone who ever treated him as a credible candidate for President:
For example — no, seriously, just recently, in an episode of Celebrity Apprentice — (laughter) — at the steakhouse, the men's cooking team cooking did not impress the judges from Omaha Steaks. And there was a lot of blame to go around. But you, Mr. Trump, recognized that the real problem was a lack of leadership. And so ultimately, you didn't blame Lil' Jon or Meatloaf. (Laughter.) You fired Gary Busey. (Laughter.) And these are the kind of decisions that would keep me up at night. (Laughter and applause.) Well handled, sir. (Laughter.) Well handled.
The contrast was always apparent, but never so well-displayed. That is, until Sunday night, when the absurdity of a Trump candidacy took the form of a real-life, real unfortunate split-screen for The Donald:
With all the back and forth between President Obama and Donald Trump in recent weeks, Twitter flared up with amused conspiratorial comments when NBC News cut away from Trump's The Celebrity Apprentice on the East Coast to carry coverage of the announcement. After the NBC News coverage concluded, the broadcaster switched to local news. The breaking news also slightly delayed Apprentice on the West Coast.
Since Osama bin Laden is currently sharing space with Luca Brasi and The Kraken, Trump can't even claim the crown for Biggest Loser in this situation, but he certainly deserves a big fat participation ribbon.
In case you missed it, here's President Obama's "tribute" to Trump from Saturday night's dinner:
Have a tip we should know? tips@mediaite.com