Reince Priebus Laughs at MSNBC's Chris Jansing When Asked if Obamacare's Failures Are GOP's Fault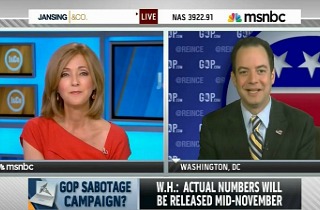 MSNBC anchor Chris Jansing probed Republican National Committee Chairman Reince Priebus on Friday about his party's opposition to President Barack Obama's health reform law. Priebus laughed when asked whether the nation's Republican governors who have refused to implement certain aspects of the law are partially responsible for its frustrating roll-out.

Jansing began by pointing out that the White House always expected the early phase of sign ups to the Affordable Care Act's exchanges to be slow. She asked if the law should just be given a chance to work first.
Priebus said that the administration wasted money on the website before he was interrupted. "I don't know that it's a waste of money, they're fixing it," Jansing said.
"I guess I would concede that eventually, I would imagine this website is going to be fixed," Priebus said. He added that the website's issues are not the centerpiece of the argument against the ACA before he was interrupted again.
RELATED: Joe Biden: 'We Apologize' for Obamacare Rollout Screw-Ups
"The reason that they're getting these notices is because they don't have hospitalization, they don't have maternity care, they have sky-high deductibles," Jansing said. "These are for people whose plans, as David Firestone put it in the New York Times op-ed, don't work."
Priebus insisted that the president promised one thing and delivered something else. "When the president made that promise, I think it's reasonable for people to expect to be able to keep their plan," he said.
"The truth and the reality is that people are feeling a lot of pain and the law is not being carried out the way that they were promised," Priebus said.
Jansing interjected again that the polls show that, while the public is frustrated with the president, the Republican Party continues to suffer from historically low approval rating. She later asked about a POLITICO story which accuses Republican governors of sabotaging the ACA's rollout because some did not implement the law fully.
"Is there a little disingenuousness to hammer the Obama administration for problems that they clearly wanted to happen and wanted to contribute to?" Jansing asked.
"I don't think the website not being able to sign up six people is a problem with Republicans not liking Obamacare," Priebus replied.
"It is with 36 states not setting up the exchanges," Jansing fired back.
"They spent tens of millions of dollars — tens of millions of dollars on a website, Chris, that does not work," Priebus laughed. "That has nothing to do with the Tea Party Patriots."
Watch the segment below via MSNBC:
[Photo via screen grab ]
— —
> >Follow Noah Rothman (@NoahCRothman) on Twitter
Have a tip we should know? tips@mediaite.com