Fox Host Grills Rep. Gohmert Over GOP Role in Shutdown: 'Let's Have Some Honest Talk Here'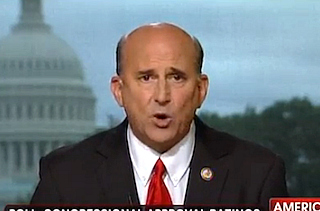 Representative Louie Gohmert (R-TX) battled Fox News host Arthel Neville over whether the GOP shared any blame for the government shutdown and potential debt ceiling breach, arguing that President Barack Obama and Senate Democrats had refused multiple offers to negotiate.
"The party's brand was hurt with TARP," Gohmert said, "was hurt with so many things, but especially two and a half years ago when we made an offer to cut some of the massive overspending, and the President and Harry Reid (D-NV) said, 'Nope, it's our way or the highway.'"
"You're not saying that either, Congressman?" Neville said. "Let's have some honest talk here."
Gohmert insisted that the dishonesty had been entirely Reid's. "Harry Reid saying that there's a bunch of firebrands and radicals in the House?" he alleged. "That's not the case. We are together, but the hijacking has been the U.S. Senate by left-wing radicals who want to keep spending grandchildren's money."
Neville repeatedly try to keep the conversation moving. "I appreciate your passion," she said. "And of course we're not suggesting—Everybody has great suggestions. We have to mix and match."
"No, you're wrong there, you're wrong there!" Gohmert interrupted. "Tell me what the president has suggested. Tell me what Harry Reid has suggested. They have not made one good suggestion, not one, other than total capitulation."
"Any way out of this, sir?" Neville asked.
"Yes!" Gohmert said. "Have them start compromising. We've compromised over and over. We got to the point where we said, 'Okay, here's the deal. Here's our negotiators' conferees. That's what the law requires.' Harry Reid would not even appoint conferees as the law requires."
"They asked you to come back to the table with some clean suggestions," Neville responded.
"Clean is not clean," Gohmert said. "It's pretty nasty."
As Neville went to break, she assured the audience that she had not cut Gohmert's mic, as he was still speaking.
Watch the video below, via Fox News:
[Image via screengrab]
——
>> Follow Evan McMurry (@evanmcmurry) on Twitter
Have a tip we should know? tips@mediaite.com