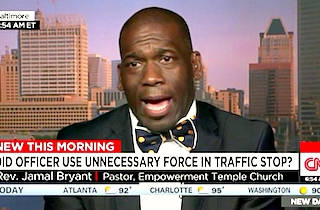 Reverend Jamal Bryant, who spent time with the family of Sandra Bland, told CNN's New Day Wednesday morning that the arresting officer seen in dash cam footage released by the police department last night was "the Donald Trump of traffic cops."
"He's completely out of line and has gone over the cliff over failure to use a traffic signal," Bryant said. "She knew her rights and challenged him, and he was frustrated over that…He completely went out of order in saying, and I quote, 'I will light you up.'"
Bland was pulled over earlier this month in Waller County for a traffic violation; she died mysteriously in her cell three days later, an incident officials initially called suicide but is now being treated as a murder investigation. Dash cam footage released yesterday showed an aggressive officer Brian Encinia threatening Bland after she protested the arrest.
"He surely was not equipped to deal with somebody, particularly a black woman, who knew her rights, who was direct and insistent upon protecting them," Bryan said.
Bryant later said that the town broke its 100-year-old custom of white undertakers refusing black bodies in the case of Sandra Bland, suggesting something was up, and called upon Attorney General Loretta Lynch to intervene.
Watch below, via CNN:
"This is the #DonaldTrump of traffic cops" –@jamalhbryant on trooper who stopped #SandraBland. http://t.co/T0Ta7Db3CV http://t.co/fSaBTNoV6I

— New Day (@NewDay) July 22, 2015
[Image via screengrab]
——
>> Follow Evan McMurry (@evanmcmurry) on Twitter
Have a tip we should know? tips@mediaite.com