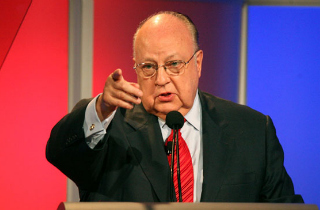 Speaking with Neil Cavuto this afternoon, Fox News chief Roger Ailes addressed speculation about his network's primetime lineup changes.
During a conversation at the 21st Century Fox investors conference in California, Cavuto asked Ailes about the rumors that Megyn Kelly inheriting the 9 p.m. ET time slot this fall. "Generally, I don't confirm or deny any rumors, and that is a rumor at the moment," Ailes said.
"All of our stars will be back," he added.
Asked what the future holds for current 9 p.m. host Sean Hannity, Ailes said "[he] is a brand that many of our viewers love and want to see, and, as you know, is one of the nicest guys in the building."
And further fueling speculation that either Hannity or 10 p.m. host Greta Van Susteren may move into the 7 p.m. timeslot, Ailes said he has had conversations with current 7 p.m. host Shepard Smith about "a new way to deliver news."
UPDATE: Some other select exchanges from the conference have emerged. At one point, Ailes told Cavuto:
"I am making a few minor changes, but let me just say that since FOX News Channel came on, MSNBC and CNN have changed either their primetime lineup of shows or their primetime talent 64 times [since 1997, although FNC launched in 1996]. I think maybe I've changed it five or six so you have to choose well in the first place and have the guts to stay with people who can do the job. And that's what I try to do."
There's also this interesting exchange referencing Geraldo Rivera's #SelfieGate:
CAVUTO: "Let's talk about you in the few minutes we have left here. How long you want to do this?"

AILES: "…I have certain things you know like I want to save democracy for the next generation, I want to prove that a fat guy can get to 100 still working. I would like to be on Dancing with the Stars."

CAVUTO: Well Geraldo turned it down, so…

AILES: He doesn't need it. He's up there shooting pictures of himself in the middle of the night.
[h/t TVNewser]
— —
>> Follow Andrew Kirell (@AndrewKirell) on Twitter
Have a tip we should know? tips@mediaite.com