The Guardian Quotes Rep. John Lewis Praising Snowden, Lewis Claims He Was 'Misquoted'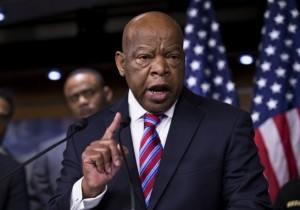 Much has been made in some circles of NSA whistleblower Edward Snowden fleeing the country instead of staying and fighting for what he believes in, like Martin Luther King Jr. did. And while the analogy isn't technically a fair one, it was nonetheless surprising when The Guardian, the paper responsible for breaking much of the news about NSA surveillance, posted an article online quoting civil rights icon, Congressman John Lewis, as praising Snowden and comparing him to others who committed acts of civil disobedience, like Gandhi. Lewis, however, was quick to release a statement claiming the Guardian misquoted him and he does not in any way support Snowden's actions.
The initial headline of the piece read as written in this tweet sent out on Wednesday.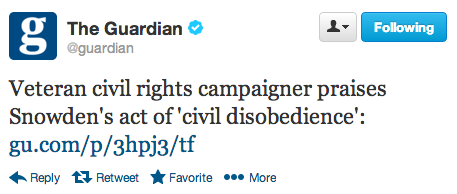 The Guardian takes particular note of how Lewis "nodded" when he was asked "whether Snowden was engaged in an act of civil disobedience." The paper reports Lewis said Snowden may have appealed to "a higher law," as did other icons of civil rights.
In keeping with the philosophy and the discipline of non-violence, in keeping with the teaching of Henry David Thoreau and people like Gandhi and others, if you believe something that is not right, something is unjust, and you are willing to defy customs, traditions, bad laws, then you have a conscience.
Lewis sent out a statement early Thursday to rebut the Guardian's framing of his comments.
News reports about my interview with The Guardian are misleading, and they do not reflect my complete opinion. Let me be clear. I do not agree with what Mr. Snowden did. He has damaged American international relations and compromised our national security. He leaked classified information and may have jeopardized human lives. That must be condemned.
He continues to note the paper agreed to remove the word "praise" from the headline, and notes he also said that when he was in the civil rights movement, he and his fellow protestors were willing to "pay the price, even lose our lives if necessary."
[Image via]
—–
Follow Josh Feldman on Twitter: @feldmaniac
Have a tip we should know? tips@mediaite.com
Josh Feldman - Senior Editor