Ronan Farrow 'Sort of Stinks on TV' and May Get Cancelled: NY Daily News Source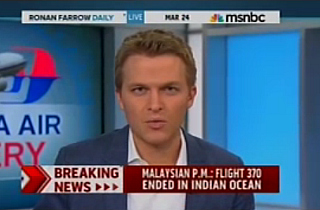 The New York Daily News' Confidenti@l blog reported on Monday morning that, according to insider sources, Ronan Farrow's brand-new MSNBC talk show is already on the fritz reportedly because of disappointing ratings and a lackluster on-air presence.
"He sort of stinks on TV," the anonymous network source told the newspaper. "He hasn't turned out to be the superstar they were hoping for."
According to the paper, MSNBC's strategy was to bring Farrow onto the network in the hopes that his younger, social media-based audience would follow suit. "But that hasn't happened," the source declared. "Just because someone is a boy genius-turned-Twitter star doesn't mean they deserve their own TV show." Farrow's show debuted with lackluster numbers in the key 25-54 demo.
A separate source (anonymous as well) defended Farrow to the paper: "Half the time Ronan has been on the air, the missing plane has dominated daytime TV."
An MSNBC spokesperson issued a statement to Confidenti@l, flatly denying the story: "This is simply not true. We're happy with the debut of 'Ronan Farrow Daily' and the show's progress this first month. MSNBC will continue to support Ronan and his team as they develop and grow the program."
We've reached out to a Farrow rep for a response.
One note, though: It is odd that someone at the network would suggest cancellation is possible after only one month of the show being on the air. Other cable shows have had weak starts and continued on to do just fine (see The Cycle), so we'll see where Farrow stands in a few months.
— —
>> Follow Andrew Kirell (@AndrewKirell) on Twitter
Have a tip we should know? tips@mediaite.com