Ruh-Roh: CNN Now Reporting 'Conflicting Reports On Bombing Arrest,' Walks Back Report (UPDATED)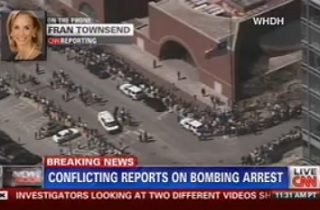 Wednesday afternoon has seen a flurry of contradictory reports about the status of an alleged suspect in the Boston Marathon bombing, but for the past hour or so, CNN has been going all-in with sources that said an arrest had already been made. A few minutes ago, though, CNN's chyron went from "Sources: Arrest In Boston Bombing" to "Defcon: Oh, Crap," as CNN contributor Tom Fuentes came on the air to tell Anderson Cooper that two "highly-placed sources" say there has been no arrest, followed by Fran Townsend reporting that "two administration officials" have confirmed that there has been no arrest.
At around 2:28 pm, former FBI Assistant Director and CNN contributor Tom Fuentes told Cooper that "I have actually three separate sources, but two that are very highly placed and close to the investigation that have just told me that there has been no arrest, and, in fact, a suspect has not been identified by name yet, that they have — they're looking for someone, but don't have anybody in custody yet and don't have an identification."
Minutes later, as CNN switched its chyron to read "Conflicting Reports On Bombing Arrest," former Homeland Security adviser and CNN contributor Fran Townsend told Cooper that "I've spoken to two senior administration officials and another federal official. all have said that what tom said is right, there is not somebody in custody or arrested. that the situation is very fluid. they're working closely with their local counterparts, that they're working to positively identify the individual, who is on these two videotapes."
She added that "There was a misunderstanding. That was said to me, not so much that we misunderstood, but there has been a misunderstanding and lots of cross communications, as understandably as law enforcement tries to work through this, what they have got, who it is, what the purpose of that is, and what the next steps are. So I, myself, have had conflicting reports and i want to just to be clear with you that they think that is a result of the chaos and quickly unfolding law enforcement situation up in Boston."
It's still possible that CNN's first source was correct, but if their reporting on the arrest turns out to have been positively wrong, it will be a black eye that makes their SCOTUS decision flub feel like a backrub. With the Boston Police Dept. now refuting even CNN's local sources, that appears likely now.
UPDATE: A spokesperson from CNN says: "CNN had three credible sources on both local and federal levels. Based on this information we reported our findings. As soon as our sources came to us with new information we adjusted our reporting."
Here's the clip, from CNN:
Have a tip we should know? tips@mediaite.com