Rush Limbaugh: GOP Has 'Nothing To Gain' From Hosting Debates On NBC, CNN, ABC…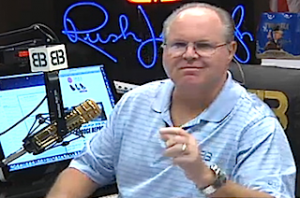 When Rush Limbaugh heard that GOP chairman Reince Priebus was threatening to pull the 2016 presidential debates from NBC and CNN over scheduled Hillary Clinton film projects, he thought Priebus wasn't going far enough. Why not refuse to let candidates appear on any network that has a supposed liberal bias? According to Limbaugh, there's "nothing to gain" from showing GOP debates on those networks and others.
"I assumed this is thought to be an aggressive move" by the GOP, Limbaugh said on his radio show Monday. The way he sees it, what Priebus is really saying to the networks is, "If you guys don't produce the Hillary movies, then we will happily show up for your biased debate coverage." Unlike some people, Limbaugh did not find this approach "admirable."
Limbaugh said the reason the RNC should stop working with CNN, NBC and others on the debates has nothing to do with the Hillary Clinton movies and everything to do with the "biased moderators and journalists" who run them. "The GOP, the RNC ought to pull out of all of these debates that show up on MSNBC, on NBC, on ABC or CNN. There's nothing to gain!"
In his letters to the networks, Priebus said CNN's "credibility as a supposedly unbiased news network will most certainly be jeopardized by the decision to show political favoritism" for Clinton and "the credibility of NBC News, already damaged by the partisanship of MSNBC, will be further undermined by the actions of NBC Universal executives who have taken it upon themselves to produce an extended commercial for Secretary Clinton's nascent campaign."
If the networks move forward with the projects as planned, he threatened to refuse to partner with them on the 2016 debates. If he goes as far as Limbaugh suggests, Fox News (and possibly CBS) could get the bulk of the debates.
Listen to audio below, via Rush Limbaugh:
—
>> Follow Matt Wilstein (@TheMattWilstein) on Twitter
Have a tip we should know? tips@mediaite.com