Sandra Fluke: Bill O'Reilly's Suggestion That The DNC Drop Condoms On Her 'Clearly Offensive'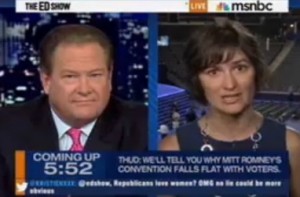 In an appearance on Monday night's The Ed Show, attorney ad activist Sandra Fluke previewed her speech at this week's Democratic National Convention for host Ed Schultz, but she also took a moment to respond to an attack by Fox News' Bill O'Reilly. Exercising admirable restraint, Fluke called O'Reilly's suggestion that her speech would feature a "balloon drop" of condoms "clearly offensive," but that she would rather "focus on the policies I care about."
Sandra Fluke was thrust into the national spotlight when conservative media giant Rush Limbaugh launched a sustained "slut"-laden attack on her for daring to testify before Congress in favor of women having contraception covered by the insurance that they pay for. At the time, Republican presidential candidate Mitt Romney refused to denounce Limbaugh, saying only that "That's not the language I would have used."
Since then, Ms. Fluke has become a celebrity among people who respect women's rights, and a villain to the right.
During last week's coverage of the Republican National Convention, O'Reilly made his feelings clear, joking about the copious balloon drops at the GOP gathering,  "I'm wondering when Sandra Fluke speaks next week at the Democratic convention, what they're going to drop from the ceiling," and adding, "I"m just pointing out, there's only one reason this woman is speaking, one and one only."
Big Ed played the clip for Sandra, and asked for her reaction.
"Well, I think it's clearly offensive to see a bunch of guys laughing, sitting around laughing about dropping condoms on a woman," she replied. "Obviously, that's offensive, but I try to not pay attention to it, look past it, and focus on the policies I care about, I'm doing what I can for the President, and frankly, I think it's clear there's more than one reason I'm speaking at the convention. I hope my contribution, and all of women's contributions, would be more respected than that."
Here's the clip, from MSNBC's The Ed Show:
Follow Tommy Christopher (@TommyXtopher) on Twitter.
Have a tip we should know? tips@mediaite.com