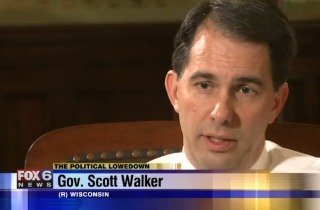 Despite chatter from the media and the punditocracy, it seems as though Gov. Scott Walker is not entirely sure he'd want to run for president in 2016.
The recently-reelected Republican governor of blue state Wisconsin sat down with Fox6 Milwaukee's Mike Lowe for a candid interview that included this question: Do you have a sense that this is your moment?

"I'm not going to run just because of the pundits or anything else like that," Walker's response began. "The closer you get to something like that the more you realize — and I say this only half jokingly — that you have to be crazy to want to be president."
Walker recently won his third election in four years, an accomplishment that garnered an admission from critics like MSNBC's Ed Schultz that the governor would now have "big credibility" to win on a national stage.
The governor, however, is not convinced he'd want to fill the presidential shoes, having seen how stressful the job can be. "Anyone who has seen pictures of this president or any of the former presidents can see the before and after," he told Rowe. "No matter how fit, no matter how young they are, they age pretty rapidly when you look at their hair any everything else involved with it."
He concluded: "The only thing I think someone is sane should want to be president, or should run for president not because they want to be or yearn to be, but because they feel called to. Right now, I still feel called to be the governor of the state of Wisconsin, and I'm going to do the best job I can over the next four years."
Watch below, via Fox6:
— —
>> Follow Andrew Kirell (@AndrewKirell) on Twitter
Have a tip we should know? tips@mediaite.com