Shep Smith Makes Apparent Slam Of Chick-Fil-A Appreciation Day As 'National Day Of Intolerance'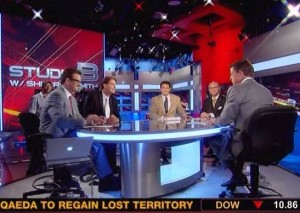 As one of the main charms of Fox News' Studio B With Shepard Smith is that anything can happen, and it usually does. For example, as Smith was tossing to commercial Wednesday afternoon, he took what seemed like a hard shot at former Arkansas Governor and Fox stablemate Mike Huckabee's "Chick-Fil-A Appreciation Day," invented to celebrate that restaurant chain's opposition to marriage equality.
Delivering one of those banal date-related factoids that news shows throw out there every so often, Smith said "It's National Badminton Day," then added "forget National Day of Intolerance, let's just stay with badminton." Smith has previously express support for marriage equality.
Ordinarily, badminton would be a fairly uncontroversial alternative to Huckabee's holiday, but strangely enough, several Olympic badminton teams have just been disqualified for throwing games, a sort of Black Shuttlecox scandal:
Badminton officials took the extraordinary step of tossing out four pairs of women — two from South Korea and one each from China and Indonesia — for deliberately trying to lose their preliminary matches Tuesday night, the latest judging controversy to sweep through the Olympics.

The decision came less than a day after the final matches in the preliminary rounds of the women's doubles, where the players — all of whom had qualified for the quarterfinals — tried to throw their matches so they could face an easier opponent in the next round.
Why don't we celebrate Coolio's birthday, instead?
Here's the clip, from Fox News:
Follow Tommy Christopher (@TommyXtopher) on Twitter.
Have a tip we should know? tips@mediaite.com