Sky News Panelist Slams Sean Penn: 'I Don't Know Why People Like This Think That They Are Going To Be Listened To'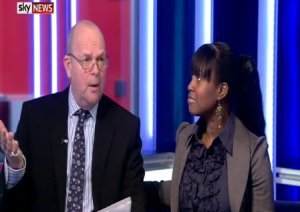 American actor and activist Sean Penn is speaking out against Prince William's deployment to the Falkland Islands, calling the action "unthinkable," as so many in both the U.K. and Argentina "lost sons and daughters in a war over islands with a population of so few."
Britain, meanwhile, denies that the deployment has any military implications, saying that the Prince is serving simply as a search-and-rescue helicopter pilot. According to CBS News, Penn, who called Britain, "a colonialist, ludicrous and archaic," deemed it a provocation nonetheless:
"There are many places to deploy a prince," he said. "It's not necessary when the deployment of a prince is generally accompanied by a warship, to send them into seas of such spilled blood."
British TV personality (and NBC News contributor) Ben Fogle led the backlash against Penn, saying on Twitter that he'd like to feed him to crocodiles. On Britain's Sky News Sunrise Thursday, a panel including journalist James Whale and actor/singer Michelle Gayle went off on Penn.
"This just shows Sean Penn talks out of the wrong end," Whale said. "He's just spouting a load of rubbish, an absolute load of rubbish. I don't know why people like this think that they are going to be listened to. His own country of America has so many problems, so many social problems, that if you want to be political about something, I suggest Mr. Penn stops talking complete and utter [bleeped], and goes back and does something to his own people who need him more."
"He did a lot for New Orleans, to be fair to him," Gayle said.
"You can be fair to him," Whale replied, "but I don't see why I should be fair to him,"
"He did help the American people," Gayle added.
"Well maybe he should go back and help them, as well, because he's talking complete and utter rubbish," Whale concluded.
Watch a clip of the panel below, courtesy of Sky News:
Have a tip we should know? tips@mediaite.com