Source Reveals What CNN's Drew Griffin Left Out of Report About Wisconsin Clinics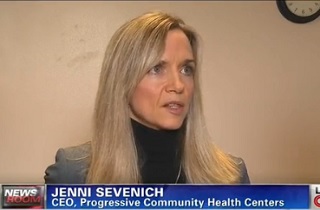 On Thursday, CNN Newsroom with Wolf Blitzer aired a report by CNN Investigative Unit reporter Drew Griffin that highlighted the difficulties that some low-income patients at Wisconsin community health clinics are having signing up for Obamacare. Conspicuously absent from that report, however, was any mention of Wisconsin's refusal to accept Obamacare's Medicaid expansion and decision to throw tens of thousands out of the current program.
The peg to Griffin's report is that the clinic's staff have yet to sign anyone up for health insurance through the Obamacare exchange, mainly as a result of the well-documented difficulties with the healthcare.gov website. In his report, Griffin said, of Progressive Community Health Centers, that "8,000 patients a year come here for almost free health care. And they've been doing that for years. That's why workers here were so excited about the Affordable Care Act. Finally, low-income patients would be able to get health insurance, many for the first time."
What Griffin left out was that many of those low income patients would be losing their health insurance, as of January 1, because of Governor Scott Walker's (R-WI) changes to the state's Badgercare (Wisconsin's version of Medicaid) eligibility rules, and that many more would have been eligible for Medicaid if Walker had accepted Obamacare's expansion of Medicaid.
Under Wisconsin's old Medicaid guidelines, adults with children were eligible for Badgercare up to 200% of the federal poverty line, while childless adults were ineligible. Under Obamacare's Medicaid expansion, all residents would be eligible up to 138% of the federal poverty line, an expansion that the government would fund at 100% for the first three years, and 90% after that.
Under Walker's plan, Badgercare eligibility has been set at 100% of the federal poverty line for all adults, which means that tens of thousands of Wisconsinites are being thrown off of Medicaid, while hundreds of thousands are being denied Medicaid eligibility under the Obamacare expansion. While the Healthcare.gov snafu is the hot story of the moment, the fact that almost all of the patients referenced in this report should have been eligible for Medicaid seems relevant, especially since Griffin did report on the clinics' success in enrolling patients in Medicaid.
At first blush, this appears to be a simple case of a reporter simply not asking the right questions, but Griffin apparently did ask the right questions, and chose not to report the answers. Progressive Community Health Centers CEO Jenni Sevenich, one of the sources cited in the report, says she did discuss the Medicaid issues with Griffin, but they were not included in the report. "We did discuss that with them," Sevenich said, "but they didn't put that part in the segment."
"The way are Governor did it was, he did expand Medicaid for childless adults who were at 100% or less of poverty, so we have those 150 people who were highlighted in the report, those are people who are newly eligible," Sevenich told me, but added that she and Griffin "did look at who would be qualified if it had been opened up to 138% of poverty for childless adults."
Ms. Sevenich didn't have an exact figure, but estimated the number at "about 200."
She also said that she and Griffin discussed "how many would actually be coming off of Medicaid because they would be losing their Medicaid, and being expected to transition onto the exchanges."
"We told them how many people would be coming off of Medicaid, and how many would be newly-eligible for Medicaid, and we also told them that there are 150,000 people in Milwaukee County alone who would probably qualify for coverage on the exchanges."
Griffin did include one example in his report, a woman with a family of three whose Obamacare premium came to an estimated $820, but whose total out of pocket, after tax credits, was not known because she hadn't selected a plan yet. Griffin could have given a reliable range, however, by using the Healthcare.gov-approved calculator, which shows that a Silver plan would have cost her, at most, $204.25, or as little as $32.58 per month.
We've reached out to CNN and Drew Griffin for comment, and are awaiting a response.
Here's the CNN report in question (transcript here):
Have a tip we should know? tips@mediaite.com