Susan G. Komen Founder Tells Shocked And 'Anger'(ed) Andrea Mitchell, They Didn't De-Fund Planned Parenthood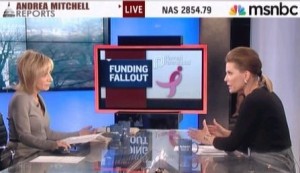 Susan G. Komen founder Nancy Brinker stopped by MSNBC Thursday to discuss the specifics of and the reaction to news that the organization would cut its funding for Planned Parenthood's screening and treatment initiatives. Brinker, speaking with Andrea Mitchell — herself a breast cancer survivor who has participated in Susan G. Komen's "Race for the Cure" — was asked whether a controversial hiring within the organization might have had an impact in its decision.
"A lot of people are tracing this back," said Mitchell, "to what some found the surprising hiring of Karen Handel." Handel formerly ran for governor before being named the charity's senior vice president, and had made no qualms during her campaign about not supporting Planned Parenthood due to her pro-life stance. Why, asked Mitchell, would a bipartisan group hire someone with Handel's background to such a key, prominent role?
RELATED: The Susan G. Komen Site Got Hacked Following Defunding Of Planned Parenthood
"Karen did not have anything to do with this," said Brinker. "And let me just take a step back for a minute. We are not defunding Planned Parenthood. We have three grants that will go on this year, and they will probably be eligible for the next grant cycle."
The group is concerned with grant excellence and providing direct grants, Brinker continued, not with reproductive issues or debates.
When Mitchell noted the anger surrounding the group's decision, Brinker replied that people who "bothered to read" Susan G. Komen's explanation have responded favorably, reiterating that there are still grants in place in vulnerable communities.
Watch the interview, via MSNBC:
Have a tip we should know? tips@mediaite.com