The Five Hosts Mock Obama's Sequester Scare Tactics: 'Carnivorous Cats Will Force Humans Underground'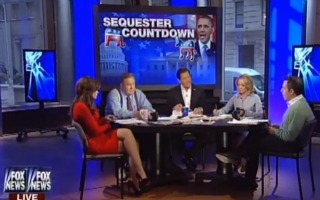 The cuts in the sequester are set to take nearly 3 percent out of the federal budget this week and members of President Barack Obama's administration warning about the damage those cuts may do in the most serious of terms. The hosts of Fox News Channel's The Five, however, are not buying it. On Monday, the hosts mocked what they considered the administration's excessive and hyperbolic description of what to expect when those cuts take effect.

RELATED: Candy Crowley Goes Off On McCain: If Sequester So Bad, Why Is Congress On Recess And Obama Golfing?
"There are simply no cuts," said Eric Bolling definitively of the planned budget reductions in the sequester. "Only smaller increases."
"What do you call tens of thousands of kids losing their Head Start services? A head start," joked Greg Gutfeld. He said that the joke had an element of truth to it, because the Head Start program is widely understood to be a failure in the effort to increase students' test scores.
"This is the most pointless debate since 'tastes great – less filling,' Gutfeld continued. "We're arguing over pennies as our banks are essentially burning."
He turned to a chart that outlined what they said are other consequences the White House has warned will occur if the sequester cuts are implemented:
• Domestic Cats Will Grow Two Heads
• The New Head Will Hunger For Human Flesh
• Fear of 2-Headed Carnivorous Cats Will Force Humans Underground
• There Will Be A New Jim Carrey Movie
Bolling asked Dana Perino about Sen. John McCain (R-AZ) who is also warning of the consequences of sequestration – noting that fear mongering is a bipartisan phenomenon. She agreed, but recalled that it was the president who pledged during last year's campaign that the cuts would not happen.
Perino called out Transportation Sec. Ray LaHood who insisted that his department's first cuts would be air traffic controllers. "That's the first and only thing they could come up with?" Perino asked incredulously.
Bolling mocked the notion that Transportation Security Administration officials will delay air travelers for up to six hours due to decreased manpower. "Nothing's changed," Bolling said.
"That'll be an improvement in some airports," Perino agreed.
Bob Beckel said that the problem with sequestration is that it is an equal cut across the board rather than a series of targeted cuts. Bolling countered by saying that baseline budgeting ensures that the government will have more money to spend this year than they did last even with the sequestration cuts.
Watch the clip below via Fox News Channel:
> >Follow Noah Rothman (@NoahCRothman) on Twitter
Have a tip we should know? tips@mediaite.com