Trump Supporter Explains Why He Can't Be '110 Percent Transparent' About Anything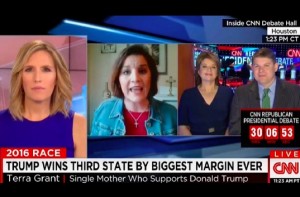 One of the (many) criticisms being leveled at Republican presidential frontrunner Donald Trump has been that he doesn't provide enough specific information about his policy proposals, or in some cases, any at all. That doesn't seem to have stopped him from bulldozing his wonkier competition, and on CNN Wednesday afternoon, one of his beloved supporters explained why that is.
On CNN Newsroom Wednesday, host Poppy Harlow threw Trump supporter Terra Grant into the mix with CNN political analysts Ben Ferguson and Ana Navarro, and asked her to explain why Trump doesn't get more specific about things like fighting ISIS, health care, and his immigration plan. Grant took a page from her candidate's book, and pasted it onto all of his policies:
I think for the last seven years everyone has detailed exactly what we're doing. We have given ISIS a game plan of what we're doing. We have given everyone coming into this country illegally a game plan of what we're doing. Why — what makes it relative to everyone else what our politicians are doing 110%? Why do we have to be transparent 110% to the point that it is actually — it's actually hurting our country as a nation. So I don't think that he's wrong with saying this is what we're going to do. This is — this is what we want to do. But I'm not going to give you a game plan and lay it all out so you can attack our plans.
While Grant is probably on to a hot new slogan – "Make America a Great Country Again As a Nation" – she has taken the normal partisan resistance to facts and turned it into an allergy. As Ferguson alluded to, laying out a health care plan isn't going to tip off the diseases, but logic isn't anywhere in the Trump equation.
To the extent that there is a beauty to Trump's support, this is it, the ability to turn every possible scenario into a win for the candidate. To the extent that you want to look down on Terra Grant, though, Trump has managed the exact same trick with pretty much the entire news media.
Have a tip we should know? tips@mediaite.com