White Supremacist Confronted with DNA Results on Live TV: 'You Have a Little Black in You'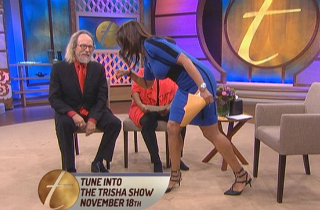 The white supremacist leader attempting to turn a rural North Dakotan town into a neo-Nazi-controlled paradise recently underwent a DNA test for a syndicated talk show. As it turns out, he's got some Sub-Saharan African genetics in his blood.
As we've previously reported, 62-year-old Craig Cobb has been attempting to transform Leith, N.D., into a safe haven for fellow white supremacists. Along the way, he's faced fierce opposition from the locals, including a zoning board that has used several ordinances in its favor.
While he seems like the last person to ever appear on a syndicated daytime talk show, Cobb somehow agreed to appear on The Trisha Show. He also submitted his DNA for testing as part of the show's ongoing "Race in America" series.
Host Trisha Goddard read Cobb's genetic results aloud on-the-air, much to the delight of the audience who laughed and applauded as it was revealed that the white supremacist is 14-percent Sub-Saharan African.
Cobb immediately waved away the results as "statistical noise" and refused Goddard's mocking fist-bump. "I tell you," he said. "Oil and water don't mix."
"You have a little black in you!" Goddard shouted at Cobb, who refused to meet her touch on two occasions.
In an exclusive interview with the DailyMail, Cobb said he agreed to the show's test because "I assumed it was science," but was upset to find that it was actually the product of "craven and debased executives," whose "goal is to shock" and "promote multiculturalism."
Even if another test showed similar results, Cobb said he'd still fancy himself a "border guard for the purebreds."
Watch the video below, via DailyMail:

[h/t]
— —
>> Follow Andrew Kirell (@AndrewKirell) on Twitter
Have a tip we should know? tips@mediaite.com