'Enough is Enough': Writer Says Jimmy Kimmel 'China' Backlash Has Gone Too Far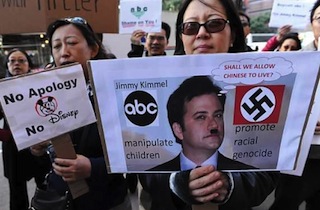 Jeremy Blum, a writer for the South China Morning Post who covered much of the initial uproar over the controversial Jimmy Kimmel Live skit in which a six-year-old suggested "killing all the people in China," thinks the backlash has gone too far, and was now operating out of "mob mentality."
Background: for a segment on the juvenility of the government shutdown and debt ceiling crisis, host Jimmy Kimmel convened a panel of first graders, one of whom offered the above advice as the best way out of our debt to China. Kimmel laughed uncomfortably, said "That's an interesting idea," and moved on. But after the segment aired, the show began to receive complaints from Chinese-American groups. ABC apologized first, then Kimmel himself, and the segment has been removed from the website and yanked from future broadcasts.
But the backlash continues. A petition on WeThePeople.org calling for an "investigation" of the show reached the 100,000-signature threshold needed to trigger a White House response. And last week, multiple protests were held in numerous U.S. cities, with some signs portraying Kimmel as Hitler.
"As angry groups of Chinese Americans continue to wage war over a matter that's now more than a month old, I can only wonder if this commotion is truly worth it," Blum wrote in Monday's Morning Post. SCMP was one of the first publications to cover the bit, and Blum wrote three of the articles.
Blum noted that the bit had no intention of attacking Chinese people, but was meant to lampoon the American government, and that Kimmel's response—which many say was worse than the six-year-old's statement, as Kimmel should have known better—was less than met the eye:
While much hubbub has been made of Kimmel's "that's an interesting idea" line, a closer look shows that his response is followed by a scoff, showing that he does not take the concept seriously and is only playing along in the way that any improvisational comedian would do when dealing with children. Anyone who is seriously suggesting that Kimmel finds the idea of killing billions of Chinese "interesting," especially after he has apologised profusely and promised to remove the "Kid's Table" segment from all future episodes of Jimmy Kimmel Live, needs to keep that definition of satire in mind.
Blum also wondered what, exactly, these groups hoped to gain from the protests, especially as all the demands of the White House petition had already been met:
In the end, what is the point of all of these ongoing protests? It seems that the protesters themselves can't even agree. One of them, a chairman of the Roundtable of Chinese American Organisations named Charles Lu, said that he wanted a more formal apology from ABC to all Chinese people across the world. Another, an unnamed online netizen, wrote that the protests were "playing an important role in improving…[the] prestige and national cohesiveness…of Chinese Americans in the US." Others on a particularly vocal Facebook group have simply said that they want Kimmel to be fired.

One thing is clear. Many of these voices, caught up in mob mentality, have failed to realise that it is unlikely that the ABC network will fire Jimmy Kimmel. As a popular talk show host, he is a television moneymaker despite whatever controversy he courts. (And one could probably say that all of this controversy has helped him and brought more viewers to his show than ever before.)

Furthermore, what more is there to achieve now that multiple apologies have been issued? Perhaps the White House will make an official statement on the matter, now that the petition submitted to them has received so many signatures. But realistically, the US government has far bigger things to worry about, including that pesky 17 trillion dollar debt.
Read the full post HERE.
And watch the original bit below, via SCMP:
[Image via SCMP]
——
>> Follow Evan McMurry (@evanmcmurry) on Twitter
Have a tip we should know? [email protected]