World Cup 2010: Spain vs. Holland Re-Enact 16th Century War, But In Less Time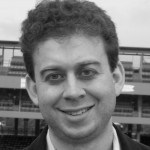 World Cup matches have an inevitable habit of re-enacting historical conflicts. Diego Maradona, with and assist from the hand of God, won a bit of redemption for Argentina against England in 1986, with the Falklands War still a fresh memory. This year's tournament has already pitted a gritty, underdog American squad against an English team decked out in lobster red (a design travesty to add insult to that team's inept performance). Whenever Germany takes the field, some nation has a score to settle. This year's final follows squarely in this tradition, pitting Spain against the Netherlands, combatants in one of the more protracted conflicts in history, the Eighty Years War.
That fight, an on-and-off affair begun in the 1560s, went on for generations, its battles fought on five continents, making it the first truly world war, and thus an especially apt precursor to the World Cup. Major battles were fought in the ports of Brazil and Mexico—both perennial tournament teams—and along the African coast, not far from Ivory Coast and Ghana (relatively new soccer powers).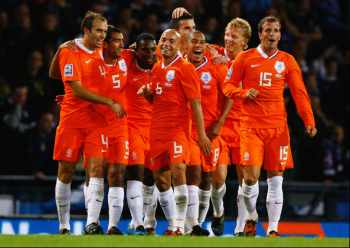 In theory, the Eighty Years War was a fight for Dutch independence from Spain, its sovereign master, in order to secure freedom of religion. (The Dutch were primarily Protestant, and Spain was the home of the Catholic Inquisition.) In this cause the Dutch were led by William the Silent, Prince of Orange, whose hereditary title has given Dutch soccer jerseys their distinctive hue.
In practice, the war was less about independence and religious freedom, which the Dutch achieved fairly quickly, than about pride, territory, and commercial advantage—much like the football match that will be played on Sunday. Certainly, there are no more interested observers than Nike and Adidas, who sponsor Holland and Spain, respectively. This is fitting; Nike, the brand born of the Americas and fabricated in Asia, speaks to the colonial power of the Dutch, while Adidas's Germany shares a Habsburg lineage with Spain.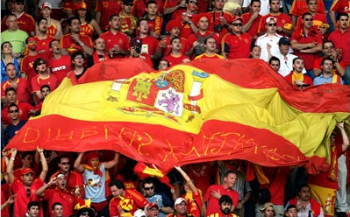 It is tempting to see in the two national styles of play echoes of their historical military tendencies. Spain's tercios, disciplined formations led by generals of great tactical skill, were relentless attacking machines, and in their day the scourge of Europe. The Dutch, conversely, were the creative pirates of the sea, nimble and creative raiders who poached on the weakness of their enemies.
If those descriptions neatly fit the methods and strategies of the teams today, one can only hope that the match does not assume the contours of the war it reenacts: a tedious battle of attrition fought largely over neutral territory (for the most part, what is today Belgium), with few moments of heroism and more pyrrhic victories than real ones. If the big game follows this form, it will be a scoreless draw decided by a botched penalty kick.
A curious historical note to this drama is that it will be refereed by an Englishman, Howard Webb. This is only fitting; in the late 1620s, with the war at full swing, the painter Peter Paul Rubens tried to enlist the English king Charles I to broker a peace between the two warring sides. It didn't quite work, then. Webb surely has his work cut out for him on Sunday.

Mark Lamster is the author of Master of Shadows, a political biography of the painter Peter Paul Rubens. Previously on Mediaite he wrote "What Barack Obama Has In Common With A Guy Who Liked To Paint Naked Women."
Photos: Image of Holland's team via Zimbio (September 8, 2009 – Photo by Jeff J Mitchell/Getty Images Europe) and Spain's fans via the NYT's "Kicking & Screaming" blog (Patrik Stollarz/Agence France-Presse-Getty Images).
Have a tip we should know? tips@mediaite.com