WWE Demonizes Tea Party With Racist 'Real American' Villainous Character, Generates Outrage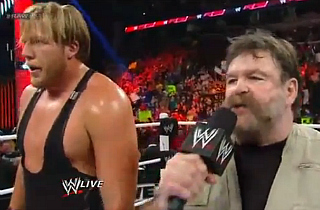 The WWE has entered the Tea Party mockery game with character Jack Swagger and his villainous "Real American" manager Zeb Colter, generating outcry from conservative fans of the pro-wrestling organization.
Appearing on Monday Night Raw last week, Swagger and Colter were booed by the crowd as they overzealously talked about the Constitution, the scourge of illegal immigration, and "true patriotism." Other promotional videos of the two show them talking about freeloading immigrants and welfare recipients in front of the Gadsden flag, which has become symbolic of the Tea Party movement.
Swagger is set to battle for the "World Heavyweight Championship" (or whatever it's called) against Mexican wrestler Alberto Del Rio — clearly a play on the stereotypical tension between anti-immigration types and Mexicans.
Further hyping the "Tea Party" gimmick, during one match ringside commentators Michael Cole and Jerry Lawler continually referred to Colter as Swagger's "nutjob" manager, and said that the pair had received "fan mail" from controversial conservatives like Rush Limbaugh, Glenn Beck, and Alex Jones.
Conservative blog Twitchy hit back at the WWE with a clever swipe at pro-"wrestling" itself: "WWE's racist Tea Party villain as realistic as pro wrestling."
(Speaking of which: Remember when my former boss called the "sport" fake to a wrestler's face? That didn't pan out so well.)
Some reactions from conservative viewers on Twitter: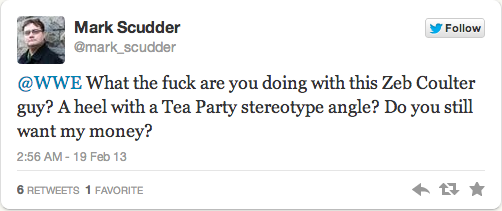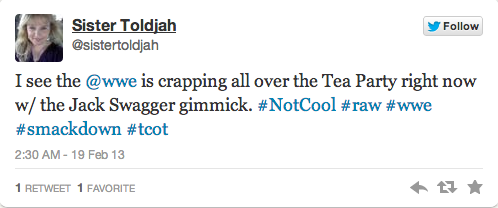 But of course, liberals like Media Matters fellow Oliver Willis seem to enjoy the new character:

Watch the video of Colter's "real patriot" speech from last week's Monday Night Raw below:
— —
>> Follow Andrew Kirell (@AndrewKirell) on Twitter
Have a tip we should know? tips@mediaite.com