BREAKING: American Univ. in Kabul Under Attack, Journalist Tweets From Inside 'This Maybe My Last Tweets'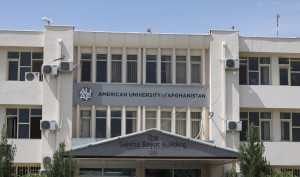 According to Reuters, American University in Kabul is currently under attack.
Reuters reports that gunfire was heard by an Afghan interior ministry official.
The Daily Beast shared a chilling tweet from Massoud Hossaini, a Pulitzer-Prize winning photojounalist for the AP, who is on the campus:
Help we are stuck inside AUAF and shooting flollowed by Explo this maybe my last tweets

— Massoud Hossaini (@Massoud151) August 24, 2016
That tweet appeared at 10:49 a.m. ET. As of this writing (11:50 a.m. ET), Hossaini has not tweeted since.
UPDATE 12:02 p.m. – The New York Times is reporting that security officials are saying that the attackers did not infiltrate the perimeter of the university.
The Times report also said that a police officer on site claims that a car bomb exploded in front of a school for the blind which adjacent to American University. Attackers then fired on American University from that school
UPDATE 12:28 p.m. – It appears that someone has deleted Hossaini's tweet from earlier. Hossaini's Twitter account is still active, and there is no word on whether or not he is currently safe.
We will continue to update this story with further developments as they become available.
UPDATE 2:19 p.m. – At a press conference, State Department Press Office Director Elizabeth Trudeau condemned the attack, calling it an "attack on the future of Afghanistan."
Press Office Director Trudeau on attack at the American University in Kabul, #Afghanistan. https://t.co/Zii4a9EpPV

— Department of State (@StateDept) August 24, 2016
UPDATE 5:45 p.m. –  Massoud Hossaini reportedly made it out of the University safely, according to ABC News.
Hossaini told ABC he was in a classroom when he heard an explosion. He and his classmates barricaded themselves inside, but could then hear an attacker going in classrooms "one by one."
"He kicked our door by his feet two times. So at this time, everybody panicked and they went to the window," Hossaini said, saying that then he heard an explosion and nearly fell from the window.

Then he decided to jump. Hossaini said that when he was on the ground, he ran toward the emergency exit, passing a dead body on the way. Hossaini said eventually security saw them and helped them escape.
The ABC report mentions that Hossaini himself deleted the tweet, but does not mention why he did so.
[image via WikiCommons]
Have a tip we should know? tips@mediaite.com
Joe DePaolo - Senior Editor