Fox's Brit Hume Suggests Candy Crowley Made Factual Mistake in 2012 Debate… Except She Didn't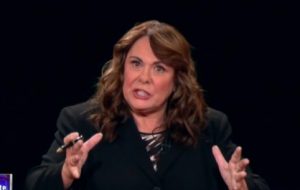 During tonight's pre-show leading up to the presidential debate, Fox News anchor Brit Hume addressed some of the problems that occur when a moderator decides to "fact check" a candidate in the midst of a presidential debate. It's been the subject of debate for weeks now leading up to tonight's showdown. Hume specifically referred to Candy Crowley's decision during the 2012 election to interupt Mitt Romney to correct his assertion that Obama had not called the Libya attack an "act of terror." On Monday night, Hume sure sounded like he was saying that Crowley made a factual mistake when she interrupted Mitt Romney that night.
Hume stated:
If you are going to be that kind of interventionist moderator, that's tough because you have to be absolutely 100 percent certain that the assertion that you are going to make is correct and we saw what happened when  our colleague Candy Crowley undoubtedly, unintentionally made a mistake in the Romney/Obama debate, we are still talking about it.
Please enable Javascript to watch this video
However, Crowley didn't make a factual mistake. In the debate, Romney asserted that Obama failed to call the Benghazi attack an "act of terror" until 14 days after the attack. That was not true. Crowley was correct.  According to a transcript from the Rose Garden from September 12, 2012, a day after the attacks,  Obama did use the term "acts of terror.' Here is the exact quote
"No acts of terror will ever shake the resolve of this great nation, alter that character, or eclipse the light of the values that we stand for. Today we mourn four more Americans who represent the very best of the United States of America. We will not waver in our commitment to see that justice is done for this terrible act. And make no mistake, justice will be done."
Maybe Hume was trying to say it was a mistake to intervene as a fact-checker at all during a debate but that isn't what it sounded like and the actual substance of her interjection was accurate.
[image via CNN screengrab]
Have a tip we should know? tips@mediaite.com