Limbaugh Tells Caller To Stop Listening To Liberals: 'Designed To Make You Question Your Sanity'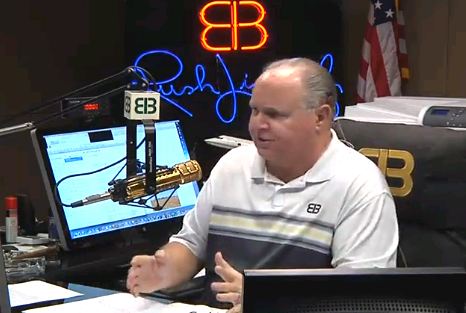 During his radio show Monday afternoon, Rush Limbaugh told a caller today to stop watching and listening to liberal pundits because it'll make him too angry and that "they're designed to make you question your sanity."
Limbaugh caller Tony said if "a Republican had this miserable, destructive record that Obama has," there would be marches up and down every street in the country. He also bashed "Alinsky-ite Obama Democrats" pushing solar and wind power at the expense of coal workers. Tony said, "It's ideology über alles, and they couldn't give a rat's backside about the poor."
Limbaugh agreed with everything Tony said, but when Tony mentioned that the particular liberal commentators he found irritating were on a Fox News panel, Limbaugh interjected to share this piece of advice:
"You need to stop watching these people, because they're not gonna change, Tony… Your blood pressure's gonna suffer if you keep watching these people. I mean, they're designed to get you ticked off. They're designed to make you question your sanity. You're gonna watch these people and you're gonna say, 'How in the world can we have such idiotic people?' and you're gonna think, 'Maybe they're not and you're crazy.' And I assure you, Tony, you're not. Trust me on that."
Listen to the audio below:
UPDATE: Limbaugh clarified on his radio show this afternoon that he did not mean this statement as a blanket criticism of Fox News. Read here.
— —
Editor's note: This post has been edited since its original posting – Jon Nicosia, Mgr. Editor
Have a tip we should know? [email protected]
Josh Feldman - Senior Editor