Sean Hannity Hits Back at John Boehner: 'Were You Sober When You Said This?'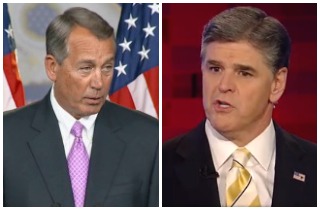 Fox News host Sean Hannity hit back at criticism he received from former House Speaker  — and fellow Republican — John Boehner, who called Hannity a "right wing idiot" in a Politico interview titled "John Boehner Unchained."
The ex-GOP congressman unleashed on his old party and their preferred media choices, calling out radio talk show hosts Mark Levin, Rush Limbaugh and Hannity for further polarizing America. Boehner took full advantage of his non-politician status to unleash on conservative media figures who now longer pose a threat to him — suggesting that many of the right-wing heavy weights are idiots.
But in the Fox News' host pugnacious style,   Hannity tweeted the following::
John were you sober when you said this? That conversation never happened. I'm sorry you are bitter and u failed! https://t.co/SLquw7rXZv

— Sean Hannity (@seanhannity) October 30, 2017
Boehner has often relished his retirement role, after leaving office in 2015, and ostensibly missing numerous battles in a looming GOP Civil War which has pitted the Republican establishment against a more nationalist and nativist side to the party led by President Donald Trump. 
Both Boehner and Hannity appear to be ignoring the "11th Commandment" which President Ronald Regan used to tout, which basically states "thou shalt not harm a fellow Republican."
Have a tip we should know? tips@mediaite.com