Shocker: A Bunch of Republicans Really Don't Want to Be Considered for Trump's VP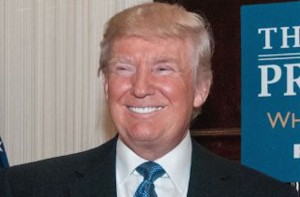 Here's a big surprise for you: there are apparently lots of Republicans who are very adamantly insistent on not being even considered as Donald Trump's VP nominee.
John Kasich's name has been bandied about, but the people around him are making it clear that ain't happening, no way, no how.
And as The New York Times reports, that's only the tip of the iceberg:
"Hahahahahahahahaha," wrote Sally Bradshaw, a senior adviser to Jeb Bush, when asked if he would consider it.

"Scott Walker has a visceral negative reaction to Trump's character," said Ed Goeas, a longtime adviser to the Wisconsin governor…

A remarkable range of leading Republicans, including Gov. Nikki Haley of South Carolina and Senator Jeff Flake of Arizona, have been emphatic publicly or with their advisers and allies that they do not want to be considered as Mr. Trump's running mate.
Marco Rubio has warmed up to Trump, but is apparently nowhere near ready to get on board with that. And New Mexico Governor Susana Martinez––whom Bill O'Reilly said is Trump's best option––wants nothing to do with him either.
Ben Carson has indicated he would be up for the task, and as the Times notes, so have Newt Gingrich, Chris Christie, and Senator Jeff Sessions.
Trump has indicated multiple times he favors having a political insider in that role, telling the Times he wants a veep with "a strong political background, who was well respected on the Hill, who can help me with legislation, and who could be a great president."
[image via screengrab]
— —
Follow Josh Feldman on Twitter: @feldmaniac
Have a tip we should know? tips@mediaite.com
Josh Feldman - Senior Editor