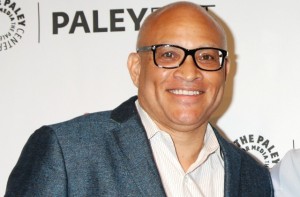 Larry Wilmore has been making the media rounds all week ahead of his big gig tonight hosting the White House Correspondents Dinner for President Obama's final year in office. And in an interview yesterday with Salon, Donald Trump was a major topic of conversation.
Wilmore, who recently described The Donald as a "substantive fool," was asked about what it would look like if Trump was president and attended one of those dinners. Past presidents have been pretty funny and have shown a good sense of humor when the comedians get up to roast them, but as Wilmore put it, "Oh my God. Can you imagine him sitting on that dais? Because he can't take a joke."
He recalled how harshly Seth Meyers roasted Trump five years ago and how funny it was to see Trump squirm there. His immediate reaction the next day was to call into Fox & Friends and say the jokes were "inappropriate." Oh, and he also called Meyers a "stutterer" who was having a bad time.
This is how Wilmore imagines things going down if he performed for Trump:
If I was doing it and Trump was president, I would do the entire thing about Trump. And I would make it seem like I was not going to do a joke about him, but then the punchline will be about Trump. Like no matter what the set-up was, the punchline would be Trump.
Part of him sort-of considers Trump "fucking brilliant," but that's largely overshadowed by his crassness and general attitude.
Wilmore also weighed in on whether Trump or Ted Cruz is worse, saying of Trump, "Well, Ted Cruz—you know what you're getting… But when Donald Trump starts talking about nuclear weapons, I don't know what's going to happen."
[image via screengrab]
— —
Follow Josh Feldman on Twitter: @feldmaniac
Have a tip we should know? tips@mediaite.com
Josh Feldman - Senior Editor