TBT: That Time Don Jr.'s Russian Lawyer Friend Went to a House Foreign Affairs Committee Hearing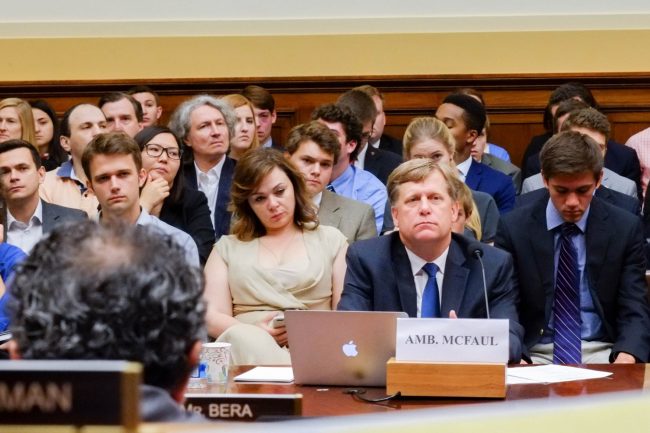 A recently discovered photo shows Natalia Veselnitskaya, the Russian lawyer known for her meeting with Donald Trump Jr. last year, attending a House Foreign Affairs Committee hearing about Russian policy.
After the infamous meeting on June 9, Veselnitskaya was next seen June 13 at the Washington D.C. Newseum, where she attended the screening of an anti-Magnitsky Act movie. The next day is the pictured House Foreign Affairs Committee hearing which focused on sanctions and overall U.S.-Russia relations. She sat directly in the first row and was listening to former U.S. ambassador to Russia Michael McFaul testify when the photo was taken. This has caused questions to arise of Veselnitskaya ties to McFaul.
McFaul worked under the Obama Administration, and has since been a vocal anti-Trump antagonist. He repeatedly tweets against Trump and specifically this Trump Jr. and Veselnitskaya meeting. Since this photo has emerged, he posts multiple tweets a day to defend himself against knowing Veselnitskaya or ever even talking to her.
Still, her reason for being there is unknown, but we do know the hearing was regarding the terms and conditions that Russia needs to meet in order for the United States to lift the sanctions against it. It is no secret that has a long history of fighting against U.S. sanctions against Russia. In fact, it is a case that brought her to New York in the time of the meeting was because of the Magnitsky Act, a law the U.S. put into place that could keep out Russian businessmen.
On top of this, Veselnitskaya's legality in the U.S. has recently been scrutinized. According to the Daily Beast, Veselnitskaya applied to come to the US in the summer of 2015, but was denied until later in 2015, when she was approved by then Attorney General Loretta Lynch on the basis that she was coming to represent her client in a case. However, that approval expired in early 2016. According to the U.S. Attorney's Office she requested an extension but it was not approved, and the U.S. State Department did not confirm or deny whether she applied again for a visa. Leaving her legality up in the air still.
According to the Washington Post, Veselnitskaya paid $6 million to settle the case in May, but still came to New York in June 2016. According to Trump Jr.'s emails that he released, Veselnitskaya landed on June 8, 2016 and had court the next day until 3 p.m., pushing their meeting back to 4 p.m. The meeting, according to Veselnitskaya's interview on Tuesday, was a misunderstanding between the two. While Trump Jr. was apparently looking for dirt on Hillary Clinton, Veselnitskaya was looking to talk about the Magnitsky Act.
While nothing can be proven right away, there is definitely a lot of confusing puzzle pieces that aren't adding up in this story.
Have a tip we should know? tips@mediaite.com