Treasury Department Employee Arrested For Allegedly Leaking Manafort Bank Records to Reporter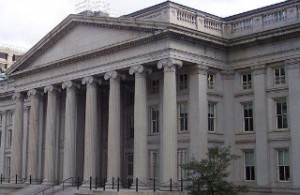 Natalie Mayflower Sours Edwards, a Treasury Department employee who was a senior adviser at the Financial Crimes Enforcement Network (FinCen), has been arrested for allegedly leaking bank records relating to former Trump campaign chairman Paul Manafort, among others, to a reporter.
According to a criminal complaint filed Tuesday in Manhattan federal court, the illegally disclosed Suspicious Activity Reports — which include highly sensitive information and are filed by banks to alert law enforcement of potentially illegal transactions — pertained to Manafort, political consultant Rick Gates, the Russian Embassy and Mariia Butina.
"In her position, Edwards was entrusted with sensitive government information," FBI Assistant Director-in-Charge William F. Sweeny Jr. said in a press release. "As we allege here today, Edwards violated that trust when when she made several unauthorized disclosures to the media. Today's action demonstrates that those who fail to protect the integrity of government information will be rightfully held accountable for their behavior."
Edwards communicated with a reporter in July 2017 and saved thousands of FinCen files, including all the SARs cited in the case between October 2017 and January 2018.
According to Bloomberg News, while the reporter Edwards is accused of leaking to isn't identified, "the articles cited by prosecutors were written by journalists at BuzzFeed — the most recent having been published Oct. 15."
Edwards admitted to accessing SARs on her computer, photographing them and sending them via encrypted message to the reporter. She also admitted to meeting the reporter in-person on at least two occasions, according to the complaint, but denied any knowledge that the information she was disclosing would be published.
[featured photo via Getty Images]
Have a tip we should know? tips@mediaite.com