Undercovered: One of the Estimated 12,800 Transgender Service Members in the U.S. Military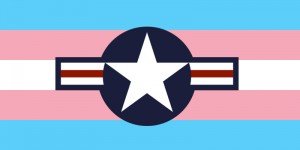 Welcome to Undercovered: our daily feature bringing attention to excellent reporting we feel deserves a larger audience.
—
Over two weeks before Defense Secretary Ash Carter's announcement that transgender service members could serve openly in the U.S. Armed Forces, the BBC published a profile of a transgender woman and master sergeant in the U.S. Air Force who had concealed her gender identity for two-and-a-half decades.
The pilot, who is referred to as Jane, was just one of the estimated 12,800 transgender people serving in the U.S. military. And until this week, they were doing so illegally.
BBC's Joel Gunter reported:
Jane is waiting for the day she can finally tell the Air Force that she's transgender. Assigned male at birth, she has served her country for 25 years as a man. She has flown in every major conflict since the first Gulf War and earned medal after medal along the way. And she loves her job, she calls it an "honour and a privilege". But it has forced her to live a double life.

[…] If Jane's commanders were to find out she had received treatment from a civilian doctor she would be instantly grounded, she says. She agreed to speak to the BBC on condition that the nature of her treatment, as well as her real name, were not published. But changes to her body are becoming harder and harder to disguise and her efforts to cover them up more and more exhausting.

Off base, Jane is free to live and dress as she likes, with the caveat that she avoids anywhere she might run into a colleague. On base, she has to wear a man's uniform, maintain a regulation men's hairstyle and use the men's toilet.

She longs for the day she can be open with her colleagues. She longs to have the surgery that will complete her transition. But until the military changes its regulations both remain out of reach. "I don't know how much longer I can hold it back," she says. "I don't know how strong I can be."
The article was published on June 14. A little over two weeks later, on Thursday, Carter held a press conference at the Pentagon to say, "We're ending the ban on transgender Americans in the United States immediately. Effective immediately, transgender Americans may serve openly and they can no longer be discharged or otherwise separated from the military just for being transgender."
You can read the complete piece here.
—
Undercovered is a daily feature from Mediaite, bringing attention to stories that warrant more attention. Go through the Undercovered archives here. If you have an idea or a tip, please email us at Undercovered@mediaite.com 
Have a tip we should know? tips@mediaite.com