13 Of The Worst and Most Politically Incorrect Celeb Halloween Costumes Ever
Halloween costume-versies are part of the American tradition by now, and 2018 has been no exception. Megyn Kelly got the axe at NBC for her Halloween blackface debate, Shaun White was slashed for his Ben Stiller homage, and the ghosts of costumes past have come back to haunt everyone from Luann de Lesseps to … Lester Holt?
So in the spooky spirit of condemning our fellow man persons — if they're famous, that is — here are some of the worst-received, most ill-conceived celebrity All Hallow's Eve outfits of all time. Thirteen of them, to be exact, in no particular order. For some, we'll explain the context in detail. For others, well … explanation is hardly needed.
En…joy? (Can we say that?)
THE HALLOWORST LIST
NUMBER 13: SHAUN WHITE as "SIMPLE JACK" – 2018
The unluckiest number goes to Olympic snowboarder Shaun White for the brand newest controversy, which broke just this week when he dressed up as a character from a fake movie portrayed in a movie about a different fake movie.
In the actual film Tropic Thunder, actor Ben Stiller plays an almost-washed up actor trying to make a big comeback after an epically terrible turn as a handicapped boy in the fake movie within the movie, "Simple Jack." The bit was satirical, meant to mock Hollywood's exploitation of and insensitivity to disabilities in their Oscar quests, but Stiller was nevertheless attacked for exploitation and insensitivity. It was all over the news. Nevertheless, White decided to put on whiteface and dress as the deliberately-offensive character, expecting somehow that it wouldn't offend.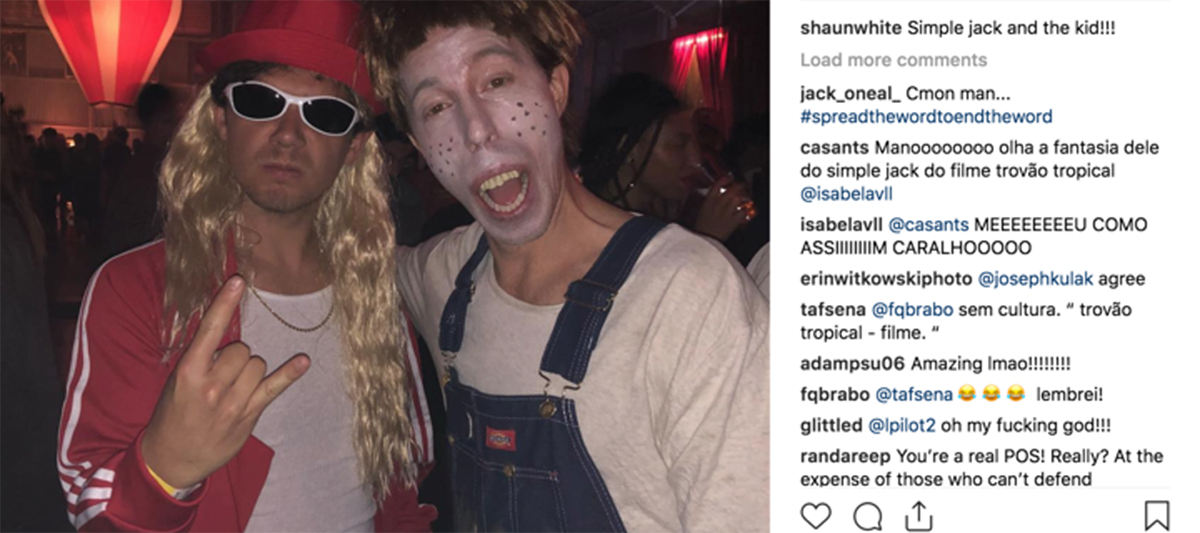 Expectations were not met, White was forced to apologize (as was Stiller, again) and he ended up here in the number thirteen spot on our list, for the terrible, terrible costume above.
---
---
NUMBER 12: CHRIS BROWN as "TALIBAN INSURGENT" – 2012
The date is important for Chris Brown's Taliban get-up: it was less than a month after a terror attack by Islamic militant group Ansar al-Sharia in Benghazi, Libya that claimed the life of U.S. Ambassador to Libya J. Christopher Stevens and three other Americans. Earlier in the year, Taliban insurgents carried out a coordinated attack in Afghanistan against multiple targets, including the American embassy in Kabul. Hardly a time to dress as violent enemy of America for anyone.
Taliban Charge Rapper Chris Brown With Stolen Valor

Full Story: http://t.co/L5BuoPCV pic.twitter.com/wX777UTv

— Duffel Blog (@DuffelBlog) November 4, 2012
But dressing up as a violent killer was especially awkward for Brown, who had appeared in court that day for violating the terms of his community service related to his domestic abuse conviction. The victim, Rihanna, was the host of the party where he wore the costume.
Awkward? Yeah. Brown told everyone to stuff it, though, and that was pretty much the end of that. But at least we got the hilarious DuffelBlog satire (above) out of it.
---
---
NUMBER 11: HILLARY DUFF (and BOYFRIEND) as "PILGRIM and NATIVE AMERICAN" – 2013
Hillary Duff's star doesn't burn too brightly, but her costume, and her then-boyfriend's, burned a lot of tempers way back in 2013 for cultural appropriation. Duff dressed up as a "sexy" pilgrim, while beau Jason Walsh donned traditional Native American togs. Not any particular person from history, just the idea of being Native American as a costume, which garnered charges of racism or racial insensitivity.
Hillary Duff apologizes for pilgrim, Native American Halloween costumes: https://t.co/w6iaGaYbbJ pic.twitter.com/LjPaQN2Nlq

— MSN (@MSN) October 31, 2016
Duff has made it into Halloween no-no lists ever since for the costume set. We don't know if Walsh has, or who he is at all.
---
---
NUMBER 10: JEMIMA KHAN as "MELANIA BEING GROPED BY DONALD TRUMP" – 2016
British journalist and TV and documentary film producer Jemima Khan took fire on Twitter, but not too many other places, for dressing up as Melania Trump being groped by Donald Trump at a UNICEF charity event for Halloween in 2016. This was during the campaign, and not long after the tape of Donald Trump describing groping women to Access Hollywood's Billy Bush was released by the Washington Post.
View this post on Instagram
Of the minor criticisms she received from the press, most focused on the appropriateness of the costume for the event. Anger or the taking of offense was generally reserved for #MAGA Twitter, although Khan still makes a lot of advice columns about what not to wear on Halloween. Maybe it was just too scary?
---
---
NUMBER 9: HEIDI KLUM as "HINDU GODDESS KALI" – 2008
Heidi faced a bit of backlash when she painted herself blue, added some extra arms, and went as Kali, the Hindu goddess of destruction.
As "Kali", Hindu goddess of destrutction, Heidi Klum insults the Hindu beliefs in dressing up for the Halloween. pic.twitter.com/9HVLZBnFum

— Egypt Speaks (@Egypt_Speaks) October 27, 2014
Klum never really apologized for the outfit, although an article from Gawker at the time cited some outrage and offense from Hind-American leaders for appropriating the still very much revered deity. Kali is not from myths of old but a part of a major world religion. Nevertheless, as recently as last year, Klum was still sharing photos of her old costume on social media.
---
---
NUMBER 8: LESTER HOLT as "SUSAN BOYLE" – 2017
You can read all about this one here, in our article on the subject.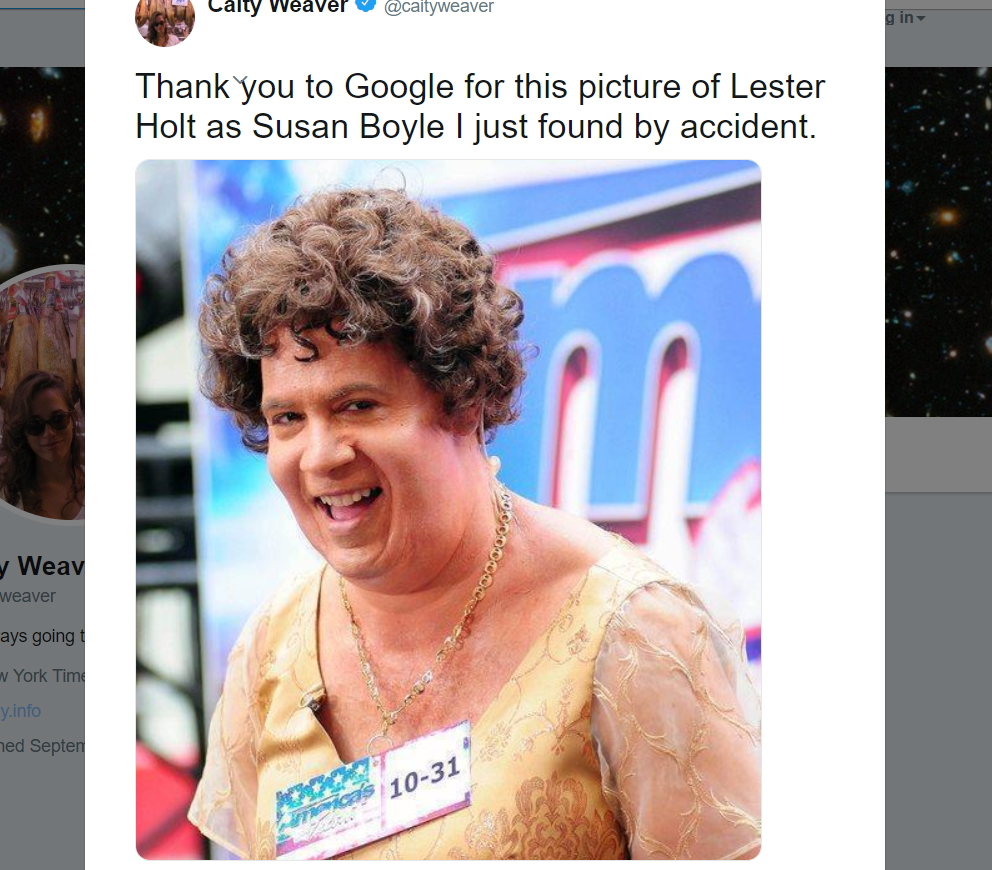 ---
---
NUMBER 7: LUANN DE LESSEPS as "DIANA ROSS" – 2017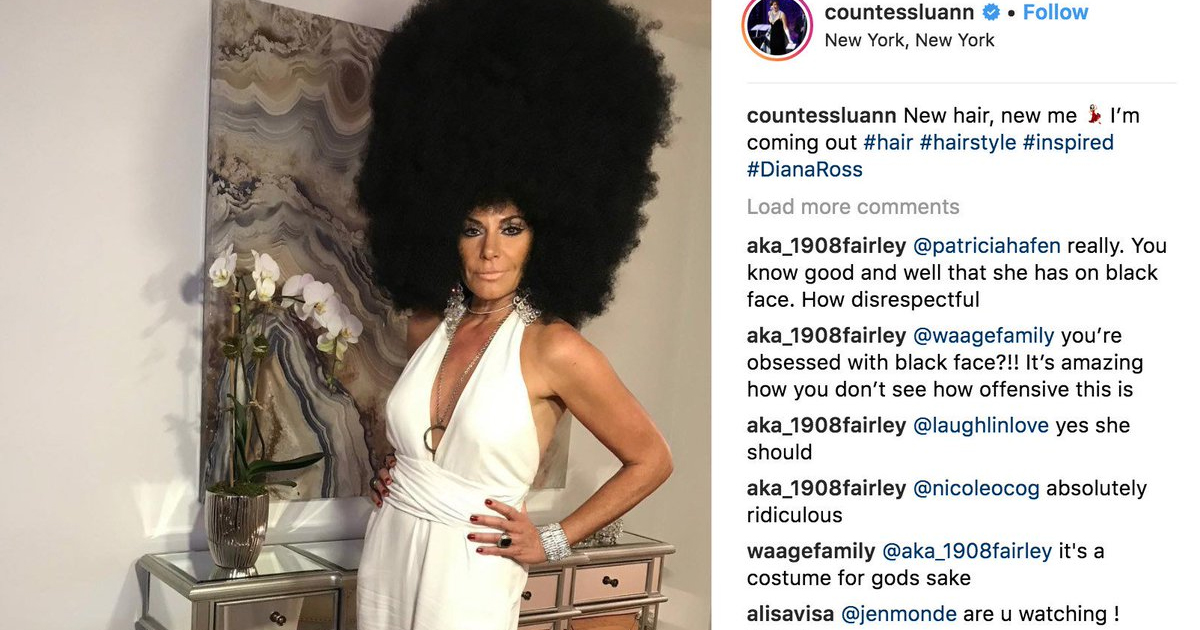 The Real Housewives reality star was the example that Megyn Kelly cited in the segment that ended her time with NBC just last week, and you can read more on that in the same article as above, located here.
---
---
NUMBER 6: JULIANNE HOUGH as "ORANGE IS THE NEW BLACK'S CRAZY EYES" – 2013
Julianne Hough, formerly of Dancing with the Stars, wore blackface and a jumpsuit when she dressed as the character "Crazy Eyes" from the show Orange is the New Black.
#DWTS judge Julianne Hough opens up about her 2013 blackface scandal: http://t.co/WpjwYS8Aaz pic.twitter.com/O9RPyDEnA6

— E! News (@enews) March 23, 2015
That's one of the ones you don't need to have explained. It didn't work out.
---
---
NUMBER 5: TOMI LAHREN as "FLAG-RELATED OUTFIT" – 2017
We had to stretch the meaning of the word celebrity here, but Tomi Lahren regularly nails "offensive" so we thought it would fit. The Trump-booster and Fox News personality sparked a lot of positive and negative reactions last year when she dressed up for Halloween as whatever this is supposed to be:
She tagged it "#MakeHalloweenGreatAgain" but we're going to go ahead and label that one Mission NOT Accomplished.
---
---
NUMBERS 4 and 3: COLTON HAYNES as "KANYE WEST" and "GANDHI"- 2011 and 2012
The star of MTV's Teen Wolf gets two spots on the list, because he wore both blackface and brownface for Halloween, two years running. Apparently Haynes is known for his crazy costume get-ups, but he went way too far when he started "appropriating" skin color, said Teen Vogue, noting that his past blackface controversies were following him to American Horror Story.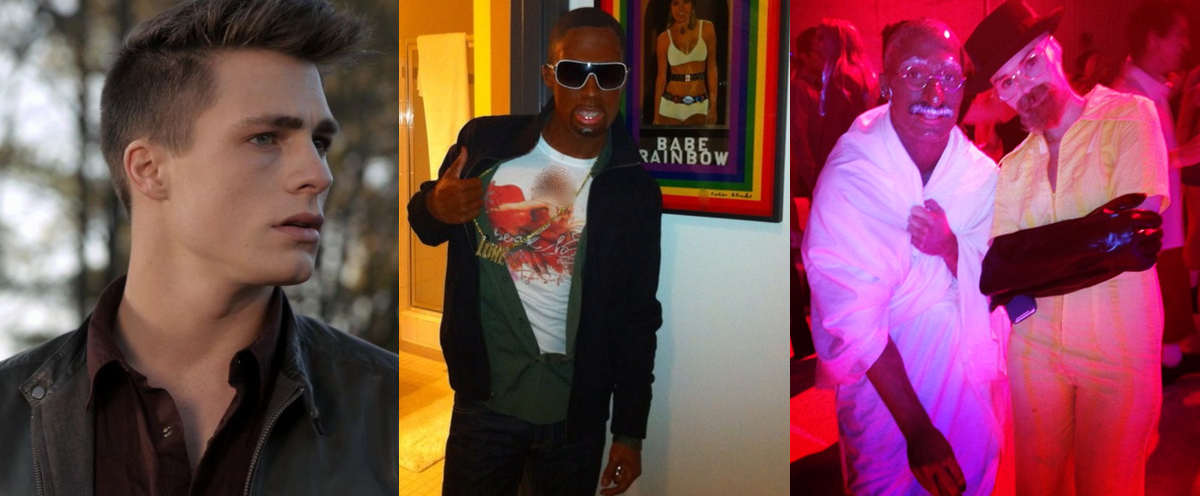 But guess what? That wasn't all. He also wore blackface in a music video for My Chemical Romance. It wasn't for Halloween but it hardly seems to matter. Three times? Yikes. He did eventually apologize.
colton haynes's blackface. 3 TIMES GUYS. 3 TIMES pic.twitter.com/omRlEdTtlJ

— ade (@80linee) May 6, 2016
That makes him also our #2 spot. Keeping in mind these are not in order of magnitude or offense, here is the last item on the countdown, coming in at number 1….
NUMBER 1: PRINCE HARRY as "NAZI" – 2005
This is pretty much the top thing to not dress up as. Don't wear a Nazi uniform is one of those rules of life you assume everyone knows, but when British royal Prince Harry was 20 years old, he did exactly that, and the picture got out (even though it was pre-Twitter.)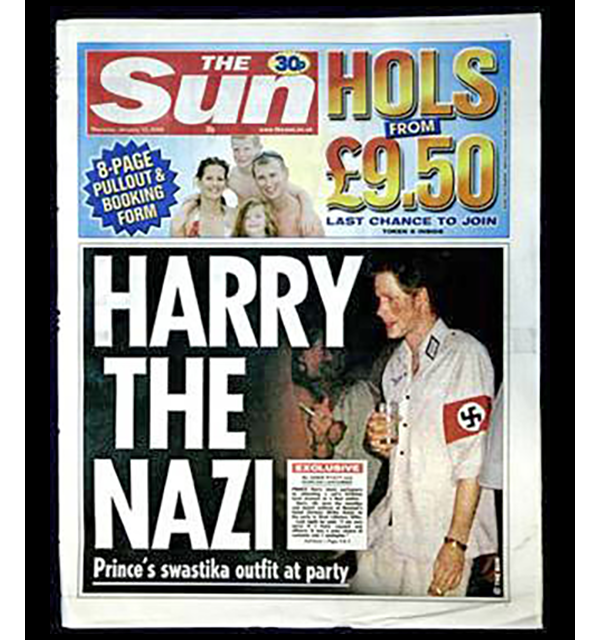 The scandal rocked the British tabloids and the story is still floating around over a decade later and post-apology. His reason for doing it? He made a "poor choice of costume" for a party with friends, he sort of explained. That's about it.
---
---
This is only thirteen, but there are a lot more.
Our advice? Whatever you wear for Halloween, do a good job putting it together, and stay off social media.
Unless you're a celebrity. We can always do another list next year.
—
Follow Caleb Howe (@CalebHowe) on Twitter
Have a tip we should know? [email protected]