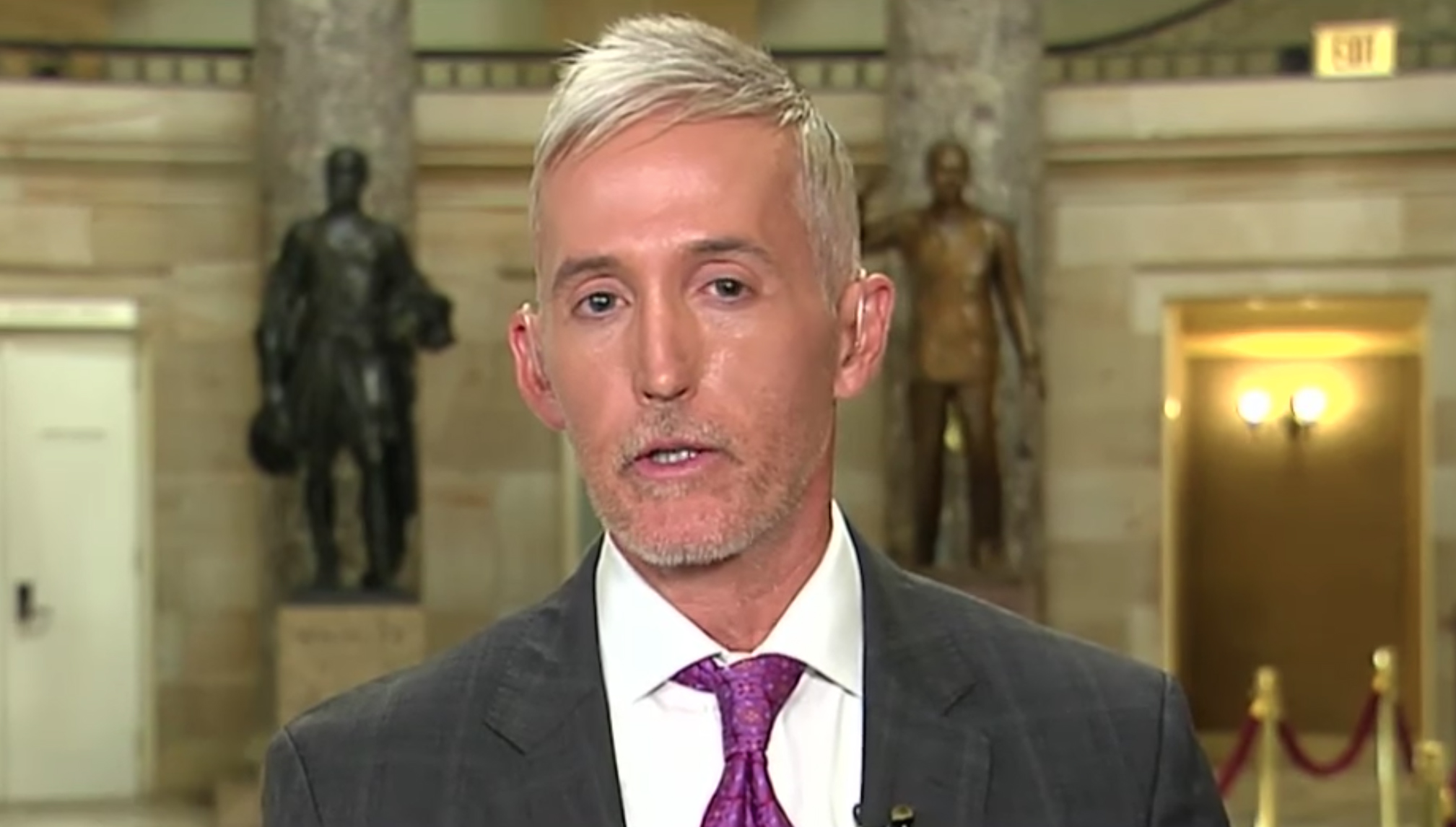 Rep. Trey Gowdy is sailing off into that judicial sunset, announcing today that he will not be seeking re-election at the end of his term. Gowdy will surely find a place in history, thanks in no small part to his relentless efforts to keep the Benghazi investigation afloat.
He'll find another place in history for having a bunch of really bad haircuts. It's kind of his thing.
Gowdy swept into the House in 2010 amid the Tea Party wave that followed the passage of Obamacare. That's nearly eight years of public service and, more importantly, eight years of totally radical hairstyles.
There are so many classics, it is hard to pick a favorite.
Let's remember Trey Gowdy's hair or whatever creature is on top of his head. pic.twitter.com/mhonLEMX9B

— Erick Fernandez (@ErickFernandez) January 31, 2018
Whether it's appearing as Draco Malfoy from the Harry Potter movies, or just a mischievous elf, also potentially from the Harry Potter movies, Gowdy has never shied away from trying something new with the top of his head.
No more hair tips for middle aged men from Trey Gowdy. Sad. pic.twitter.com/Ln9YA2CVj1

— MomOf4 (@NirodhaTW) January 13, 2018
Despite the difficulty of this monumental task, we are taking it upon ourselves to pick some standouts from Gowdy's dozens upon dozens of hairstyles.
What was going on here, exactly? Was this an homage to 90s band Everclear?
There's also the "piano-playing dad in a 1980s sitcom" look, which, of course, was loosely based on the father from Blossom.
Sometimes, he'd try this beard thing, which usually went over like a sad trombone at a funeral. Here, he pairs it with a Pete Wentz-inspired comb-over.
Maybe it's just me, but I think he looks pretty cool here. Like Brad Pitt on a pretty bad day. He should have stuck with this look.
Guess what? He didn't stick with that look. Instead, he seemed to physically become "Florida Man," as seen in the middle photo, below.
Wear the glasses, they said. They'll make you look smarter, they said.
@netw3rk literally looks my man's hair is desperately trying to escape pic.twitter.com/y97ZGL67hQ

— Georgeous Gorge (@tjfuchs) March 20, 2017
Hey look. Here he is playing the part of "scumbag ex-husband" in a Showtime movie.
Gowdy's hair is not to be trifled with. Look at him protecting it during the inauguration of President Donald Trump.
Too funny. Look at Trey Gowdy protectin' the hair? pic.twitter.com/qISYURiD9S

— ????????™, ?? ???????? (@TeamHudson11) January 23, 2017
The Congressman has always had a pretty good sense of humor about his hair, even using the constant ridicule he receives in a campaign ad.
Alas, we will no longer have that hair on C-SPAN to constantly ridicule.
For some reason, the Phil Collins classic "Against All Odds" seems appropriate for this dire moment in Congressional follicle history.
How could you just walk away from me, Trey Gowdy's hair?
Goodbye old friend. You made a lot of people happy during your tenure in Congress. I'm speaking, of course, about the hair. The Congressman himself? Not so sure about that.
[image via screenshot]
—
Follow Lawrence Bonk (@sidescrollers) on Twitter
Have a tip we should know? tips@mediaite.com