Anthony Scaramucci, New WH Communications Director, is Trump's Most Lethal Surrogate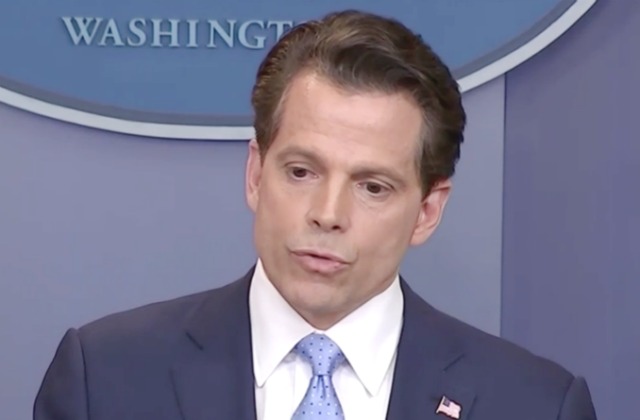 The long-awaited White House shakeup dropped like the mother of all bombs on Friday, with President Donald Trump hiring Anthony Scaramucci, a Wall Street financier, as communications director — and perpetually embattled press secretary Sean Spicer resigning as a result.  For those bemoaning Scaramucci's lack of experience in communications, fear not, as it seems his real role will be be doing what he does best: defending Trump on TV.
The major upheaval came as a shock to reporters as well as many in Trump's administration — most notably now-resigned Spicer, as well as chief of staff Reince Priebus and strategist Steve Bannon, who all reportedly lobbied against the hire of "Mooch."
Those officials have reported to have repeatedly protested that the businessman, who has no communications experience, would not be able handle the high-profile post: per Politico, Spicer has "vented to confidants that he did not think Scaramucci could handle a major media campaign and didn't deserve the job." One top White House official even told Politico that Priebus and Bannon "said Anthony would get this job over their dead bodies."
So it may seem to be a further example of Trump entrusting an amateur handle an incredibly difficult position, as his administration finds itself crushed under the weight of a sprawling and ever-expanding Russia scandal — and desperately needs a competent communications team to get ahead of the story.
But it appears that will not be the new staffer's role: a source close to the White House's press shop told Politico that Scaramucci's position will likely be a "ceremonial title."
After calling it a "joke that he's being offered this position," the source made a telling revelation: "Trump simply wants a high level White House surrogate on television and wanted Mooch to have something nice to do."
So Trump may not have been seeking a top-notch comms veteran to tidy up the White House press team. Instead,  he was looking for a "killer" to defend him on TV, and it just so happened that Scaramucci, a close family friend, is particularly skilled at that. In fact, he might be the most skilled.
Of the rolodex of Trump surrogates who have ascended to fame and notoriety defending the president on cable news, from the inception of his unlikely candidacy (remember Katrina Pierson?) through to the first seven months of his administration, Scaramucci is the most formidable.
Case in point: he has faced off on a number of occasions with CNN's Chris Cuomo — a rhetorical assassin with more scalps of Trump spox than the finest cable news interrogators — and has held his own, keeping a level head and deploying a natural schmooze with slickly-packaged responses that somehow still seem vaguely earnest.
Now, this may come off as lauding the skinniest kid at fat camp. Spokespeople are supposed to be able to go on television and not embarrass themselves, but virtually every other Trump surrogate has been unable to maintain a scrap of dignity.
Kellyanne Conway, Trump's most prominent representative, has drawn consistent fire thanks to her mind-numbingly craven "alternative facts," and others are no different — from Jeffrey Lord's always astounding sycophancy to Sean Spicer's bumbling combativeness, few reputations survive a televised defense of Donald Trump.
Except for Scaramucci (though, it must be noted, there have been slip-ups). And it's not in just cable news face-offs that the incoming communications director has triumphed. His most high profile battle was the recent showdown with CNN, when the news organization published an unsubstantiated report detailing Scaramucci's supposed Russia ties. When he cried foul — and threatened legal action — CNN retracted its report, and Scaramucci gracefully accepted their apology.
That victory over CNN, the president's arch-enemy, greatly impressed Trump and demonstrates Scaramucci's ability to beat back the media with one hand, while patting it on the back with the other. Though the success of Scaramucci's threats of legal action should come as alarming when paired with a president that has repeatedly stressed his desire to curtail press freedoms.
No doubt many in the administration would like a highly competent and disciplined communications director able to grab Trump by the horns, throw a saddle on him and clean up White House messaging, but it's wishful thinking that anyone could pull off such a feat. The president's messaging will never be tamed. Trump wants someone pretty, sharply-dressed, well-spoken and loyal who can perform on television — and judging by his first press briefing on Friday, Scaramucci certainly ticks those boxes.
[image via screengrab]
—
Follow Aidan McLaughlin (@aidnmclaughlin) on Twitter
This is an opinion piece. The views expressed in this article are those of just the author.
Aidan McLaughlin - Editor in Chief