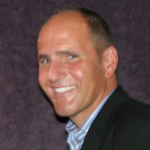 This week in Hollywood, it's difficult — nay, impossible — to ignore the impact of the teenage girl demographic. Yes, I am talking about that little Twilight movie. And by "little movie," of course I mean that ridiculously huge, impossible to ignore, will-make-over-$100-million-in-its-first-weekend-at-the-US-box-office movie that opens in theaters today.
The Twilight Saga: New Moon opens in theaters almost exactly one year from the date when the first little Twilight movie entered our lives. You know, the one based on a 'children's book' by Stephenie Meyer (in fact it was named one of Publishers Weekly's best children's books of 2005), about a teenage girl who moves to a new town and just happens to fall in love with a vampire (happens all the time), the one that single-handedly turned a tiny indie studio, Summit Entertainment Group — previously best known for partnering with Disney/Touchstone on the "Step Up" franchise — into a force to be reckoned with, and pretty much the envy of all of Hollywood. Aside from the once-a-decade type of phenomenon that is the recently released Paranormal Activity ($15K budget; $100 million-plus box office), has there been a more profitable, franchise-creating film in recent years than that first little Twilight movie? I think upon a glance at the box office returns it's safe to say the answer is no. Let's consider the numbers.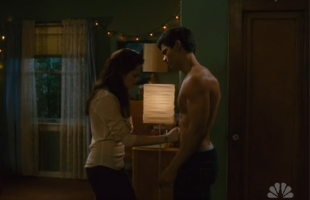 The first little Twilight movie had a reported budget of $37 million, and its take at the worldwide box office was over $380 million. Not too shabby a return. And these figures don't count the receipts from the seemingly endless pieces of Twilight merchandise now flooding our economy – the boatfuls of dvds, lunch boxes, and R-Patz tshirts that are being sold (that's Robert Pattinson for those of you playing at home). And can you imagine if the studio had a piece of tabloid magazine sales based on coverage of the star-crossed, are-they-a-couple-or-are-they-not stars of the movie series? Then we would be talking some big bucks.
Have I mentioned I have not yet seen that first little Twilight movie? Have I mentioned also that I am not a teenage girl? Well, truth be told I have the Twilight dvd in my possession and I swear I'm going to watch it soon, but I guess the point is it really doesn't matter if I watch it. Sure, Summit will take my money gladly and I bet they secretly hope I have a crush on R. Patz too (sorry, ladies I just don't see it), but their little business model for these little Twilight movies doesn't really need to count on the 18-49 male demographic. Did I just type that and mean that? What other thriving Hollywood franchise of any significance can pretty much ignore the entire male movie-going population? (Sorry, Sisterhood of Traveling Pants 2, based on the performance of your last film, you could use every male eyeball you can get). Don't get me wrong, I fully realize that many male moviegoers are going to willingly tag along as dates with their female companions to see the next installment of Hollywood's brand-new powerhouse franchise, and that there are many single men of all sexual orientations who will be lining up at theaters tonight. But none of those men matter.


The male moviegoer takes a rare backseat in the world of that little Twilight movie. In fact, when the first little Twilight movie opened a year ago to box office of $69.6 million during its opening weekend, females made up an astounding 75% of the audience. Well, last night's midnight shows of New Moon topped all that: The debut set box office history, taking in $26.3 million across 3,514 theaters — in just the midnight showing. Tracking indicates that the second little Twilight movie will deliver grosses this weekend never seen outside of summer. We are talking weekend grosses potentially over $100 million. That's just the first weekend and just U.S. box office. Wow.
To put an opening weekend of $100M in perspective, let's compare those potential figures to the box office results for the original Star Wars trilogy (the holy trinity of movie trilogies). Keep in mind that average movie ticket prices back when the first Star Wars film was released in 1977 was $2.23 and grew to a wallet-busting $3.15 by the time the 3rd Star Wars film was released. Star Wars Episode IV (better known as the original Star Wars), released in 1977, actually opened in limited release (only 43 theaters) and made $1.5M its opening weekend (an astounding figure based on the limited opening run). Episode 5 (aka The Empire Strikes Back) earned $4.9M in its opening weekend in 1980. Finally, Episode 6 (aka Return of the Jedi) made $23M in its opening weekend in 1983. So even if we consider that average movie ticket prices have basically quadrupled since 1983, a $100M opening weekend for that second little Twilight movie would not only put it in the same rarified air as the Star War series, but it would even outperform the series opening weekend box office results. Again, wow.
It is the teenage girl who rules the school in this case (including the inner teenage girl among Twilight-obsessed twenty and thirty-something women who fixate over the love triangle that is Edward, Bella and Jacob with an equal passion and fervor). They will compete among themselves to lay claim to who saw the film the most times over opening weekend, they will buy every piece of Twilight merchandise possible, they will read and re-read the books in hot anticipation for the next movie in the series (The third little Twilight movie aka The Twilight Saga: Eclipse is already slated for release on June 30th of next year – start lining up now ladies). Yes these Twi-hards or Twilighters or whatever they are calling themselves have become the Star Wars geeks of this generation and in the process have created a new franchise and single-handedly launched a new Hollywood studio powerhouse.
So, yeah, I won't be lining up tonight. I don't think Summit Entertainment Group is losing any sleep. They are too busy steamrolling ahead with their plans for the 3rd little and 4th little Twilight movies. And limbering up their calculator-punching fingers to start tabulating the box office receipts as they begin to roll in this weekend. And thinking up Twilight-based theme park rides and video games and cell phone wall paper and coffee mugs and snuggies and…ok you get the point.
Have a tip we should know? tips@mediaite.com