Rose McGowan Axes Book Tour Following Aggressive Confrontation with Transgender Woman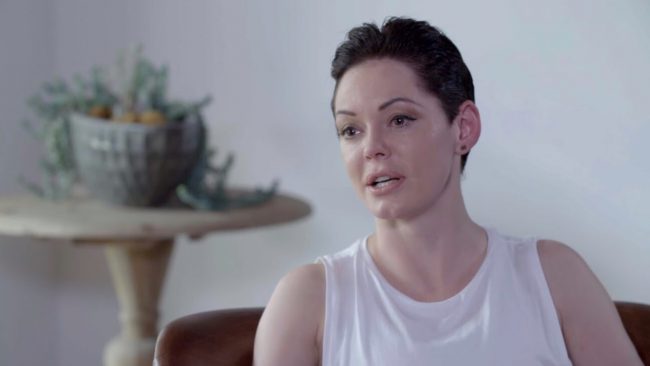 Former actor and current director Rose McGowan seemingly axed the remaining live events on her book tour, as she cancelled the appearances after a testy shouting match with a transgender woman at a recent Barnes and Noble gathering for her biography Brave.
The controversial incident that appears to have caused McGowan to cancel the upcoming speaking events was a transgender woman confronting her about comments on the transgender community. "Trans women are dying, and you said that we, as trans women, are not like regular women," the woman said — pointing to some of the ex-actor's recent remarks on the issue,
The incident went downhill for McGowan from there, as she loudly declared "we're the same!" to the woman — who responded by saying, "this is white cis feminism!"
McGowan then went on a spirited monologue, saying:
"Don't label me, sister. Don't put your labels on me, don't you f%$#ing do that. Do not put your label on me, I don't come from your planet, leave me alone. What I do is for the f%$#ing world, and you should be f%$#ing grateful! So shut the f%$#up. Get off my back, what have you done? … Trans women are women. What I'm trying and been trying to say is that it's actually identical. The stats are not that dissimilar. You break it down, it a much f%$#ing smaller population."
The Hollywood icon explained her reasoning for cancelling the book tour on Twitter.
I am canceling upcoming public appearances because I have given enough. I have given beauty, in return I was VERBALLY ASSAULTED for two full minutes @BNBuzz by an actor paid to verbally assault a woman who has been terrorized by your system. And no ONE in that room did anything

— rose mcgowan (@rosemcgowan) February 2, 2018
And everyone from my publicists, t assistants, managers and every person sitting in their chairs frozen by their weakness, a weakness called COMPLICITY. The truth is you all failed me. Again. And again. And again.

— rose mcgowan (@rosemcgowan) February 2, 2018
McGowan's name has picked up significant traction after she came forward to accuse disgraced Hollywood mogul Harvey Weinstein of rape in late 2017. She has since voiced concerns that Weinstein may try to assassinate her.
[images via screengrab]
Follow the author on Twitter (@calebecarma).
Have a tip we should know? tips@mediaite.com