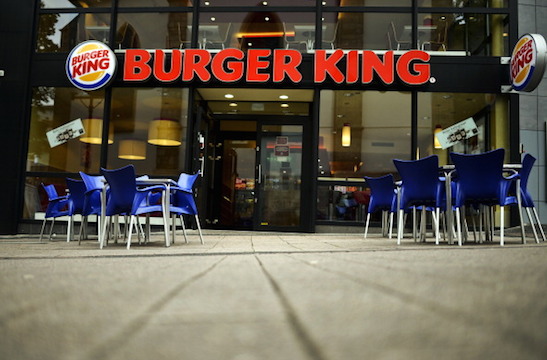 It slightly invokes the whole "freedom fries" thing from a decade ago, does it not? We mean, what are we supposed to eat now — poutine Burger King fries? (Oh wait, poutine is THE BEST.)
The New York Times reported that the rumored deal between Burger King and Tim Horton's is done — an $11.4 billion acquisition of Canadian-owned Tim Horton's by American (ish, now) Burger King. BK will move up north, in a move that's largely believed to be for squashing down this nasty little thing called U.S. taxes. The deal will now make the Burger King-Tim Horton's conglomerate the third largest "quick service restaurant company" in the world. (That's the fanciest way to say fast food ever.)
So naturally, this news is going over really well with tax-paying Americans. Just kidding!
I'm about to practice a food inversion and stop at McDonalds @BurgerKing #BoycottBurgerKing

— Christopher Wade (@Troubledunion) August 26, 2014
I already boycott Burger King b/c their food sucks but this running to Canada makes the decision to stay away easier.

— Mr. NFTG (@Kennymack1971) August 26, 2014
@SenSherrodBrown I'm happy burger king left.Less tax dollars to fund your lazy constituents Democrats don't work,they are leeches on society

— DonaldCParise (@DonaldCParise) August 26, 2014
No Mr Socialist, they want to escape the welfare state-Sen. Sanders: Burger King's Move Shows 'Contempt' for USA https://t.co/J8qdkdYlIX

— Ed (@EDinCali) August 26, 2014
Want to give props to @BurgerKing for stomach punching Canadians worldwide while they were celebrating burning down the White House #mericuh

— Ben Jackson (@innismir) August 26, 2014
@WhiteHouse your policies works! Burger King flees to Canada. Blame Bush?

— Jusleanica (@jusleanica) August 26, 2014
I mean, seriously, how did America lose Burger King to Steven Abootman? #ThanksObama

— Seth (@dcseth) August 26, 2014
I think I shall slowly die due to the fact that Burger King will buy Tim Hortons. Slow and painful.

— Yesung's Queen Cloud (@NyiHo_WanlaWaa) August 26, 2014
But think of all the Canadian fun, guys!
Just heard the first "aboot" on the Burger King/Tim Hortons investors call.

— Kate Taylor (@Kate_H_Taylor) August 26, 2014
And there are chicken fries!
Did you guys know that @BurgerKing listened and brought back the #chickenfries? That's good customer service if you ask me.

— A L I A N D R A (@zaliandra) August 26, 2014
Oh wait.
New Burger King/Tim Horton's shops to be called "100% Guaranteed Diarrhea" Strange choice in my opinion

— GoodBeverageEnjoyer (@InfiniteTacos) August 26, 2014
Because I pay my fair share, I won't be eating at Burger King anymore. #BoycottBurgerKing

— Arizona Democrat (@LiterateLiberal) August 26, 2014
If @BurgerKing needs to cut the taxes they pay, then how come they have $11billion to buy Tim Horton's? #boycottBurgerKing

— Michael Hutchisson (@HutchissonMike) August 26, 2014
What's the Canadian translation of "blerg?"
Don't worry guys, we Americans still have our breakfast tacos.
[The New York Times, Washington Post]
Have a tip we should know? tips@mediaite.com